San Felipe Travel Guide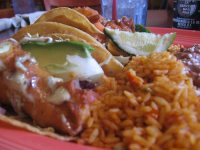 Originally a sleepy fishing village, San Felipe has developed into a popular resort for both Mexican and American tourists on the Baja coast, with a number of hotels, shops, restaurants, bars and nightclubs.
Beach activities and watersports are the order of the day, with surfing, whale watching, swimming, snorkelling and scuba diving, sailing and sport fishing all popular pastimes. Those looking for land-based activities will find enjoyment in golf, 4x4 excursions, and the natural sulphur springs at Puertecitos, roughly 60 miles (97km) away.
As a resort, San Felipe caters to American crowds. Thus you'll find an abundance of English-language menus and price tags. Shops sell identical souvenirs and the food is mild enough to please most palates. San Felipe is known as the birthplace of the fish taco, and they are available in abundance along with other locally-caught seafood. There are a number of bars in town, and music lovers will enjoy the Blues Festival held each April.
While the area is still growing as a tourist destination, visitors will still find plenty to see and do in San Felipe.