Huatulco Travel Guide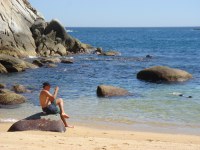 A relatively recent tourism project by the Mexican government, Huatulco is an up-and-coming resort on the southern coast of Oaxaca. The meeting point of the Sierra Madre del Sur Mountains and the Pacific Ocean form 36 beaches on nine bays, home to a number of luxury resorts, economy hotels, and oceanfront villas and rated as some of the best beaches in Mexico.
Although there aren't many cultural attractions or archaeological sites in the area, the resorts have good restaurants and lively bars; and there are plenty of outdoor activities like deep-sea fishing, mountain biking, horseback riding, hiking, scuba diving, golf and surfing. Catamaran rides to the dramatic Copalitilla Magic Waterfalls are a popular activity. The nearby towns of Puerto Angel and Puerto Escondido are also great excursions from Huatulco.
Because there is no major airport in the immediate area, roughly 80 percent of the tourists on holiday in Huatulco are Mexican, giving the resort a different feel than the American-dominated culture in Acapulco, roughly 250 miles (400km) to the west.