Ixtapa Travel Guide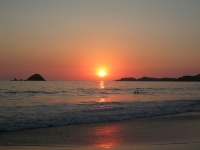 Ixtapa Sunset © RussBowling
A popular port of call and destination for cruise passengers, the Mexican resort of Ixtapa is set on one of the Pacific coastline's most spectacular bays and is justly renowned for its beautiful beaches. Located just 3 miles (5km) from the municipal seat of Zihuatanejo, Ixtapa was constructed in the 1970s on a coconut plantation and mangrove estuary and in recent years has given way to high-rise hotels and luxury villas, making it one of Mexico's most modern resorts with an energy and atmosphere that is reminiscent of Acapulco's earlier years.
With breathtaking views, sugary white beaches, offshore tropical islands, two world-class golf courses, exciting diving, mouth-watering restaurants and a pulsating nightlife, Ixtapa is fast becoming a popular choice for holidaymakers looking for the perfect beach holiday in Mexico.
There is a good selection of shops available throughout Ixtapa, from boutiques and famous brand and designer names and jewellery stores to specialist shops and craft markets selling local wares. Ixtapa Boulevard is the place to go for shopping centres and stores, as well as the artisan market where popular buys include huaraches (handmade leather sandals), wooden sculptures, art, jewellery, furnishings, beachwear, sarongs and traditional masks. Those looking for the quintessential Mexican souvenir need look no further than Tequila Por Favor, Zihuatanejo's first liquor store, which offers an amazing variety of tequila, fine spirits, and Cuban and Mexican cigars.
With some of the most picturesque and romantic beach-side settings, those looking for a night of wining and dining will find there is no shortage of quality restaurants and eateries in Ixtapa. For some of the best seafood around, try 4 Hermanos, while Beccofino offers an eclectic mix of Mediterranean and Mexican cuisine. For local flavour visit Villa de la Selva. Fancy a bit of spice? Look no further than Deborah's Chili Beans on Ixtapa Boulevard, while for a more familiar dinner, head to Porto di Mare for a bit of Italian fare.
The nightlife in Ixtapa is second to none with a good selection of restaurants, bars, clubs and discos to keep you partying into the early hours. Sip a cocktail under the tropical overhang at La Playa Bar in the heart of in the heart of Zihuatanejo, sing along to some live music or hit the dance floor and get you body moving until the early hours. Head for the world renowned restaurant-cum-disco on Ixtapa's beach, Carlos 'n' Charlie's, to enjoy some of the finest BBQ ribs and dancing, while Bandido's features live music from Wednesday through Saturday. Rick's Bar is a popular hangout for locals and expats, while Senor Frog's and Christine's on Ixtapa Boulevard see the DJs spin a mix of pop and disco to keep the party going.
There are plenty of exciting water sports and activities to enjoy while on holiday in Ixtapa. Go surfing at one of the nearby beaches such as Playa Escolleras, enjoy a round of golf at the Marina Ixtapa Golf Course or a tennis match at the Palma Real Golf and Tennis Club, enjoy some of the best scuba diving and snorkelling in the Pacific Ocean or take a fishing charter and enjoy some fly fishing and even game fishing where you may even land a Blue Marlin.
---
There are a lot of peddlers and hawkers along the beach in Ixtapa which can become a nuisance for many travellers.