Zihuatanejo Travel Guide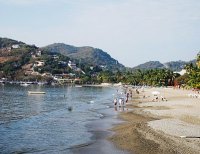 The idyllic getaway featured in the film The Shawshank Redemption, Zihuatanejo is a small, old-world fishing village on the southwest coast of Mexico. The heart of the town is the Paseo del Pescador (or Fisherman's Path), a pedestrian walkway along the beach. Lined with souvenir shops, restaurants, and bars, the path runs from the pier to the city's excellent archaeological museum.
Zihuatanejo Bay offers a number of good beaches, ranging from the busy Municipal Beach in town to the Playa La Ropa (Clothes Beach), which is good for swimming, to the snorkeller's haven of Playa Las Gatas (Cats Beach). Scuba diving is also available, and there are some good diving schools in Zihuatanejo.
Like many resorts, Zihuatanejo has been affected by the ongoing drug violence in Mexico. However, Zihuatanejo is considered relatively safe, and incidents have been minimal. A popular port of call for cruise ships in Mexico, Zihuatanejo is also conveniently accessible by car at a six-hour journey from Mexico City.