Topolobampo Travel Guide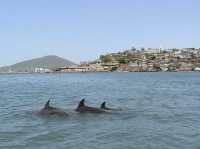 Located 12 miles (20km) from Los Mochis on the west coast of mainland Mexico, Topolobampo is known for its beautiful views and beaches, including the scenic Maviri. The rolling sand dunes are a popular site for sand boarding and 4x4-ing, and visitors can enjoy the calm waters of the Gulf of California, perfect for sport fishing sailfish and marlin and dolphin-watching. (27km) out to sea is El Farallon, a rocky island inhabited by seals and sea lions.
A stunningly beautiful seaside town to rival any in the Mediterranean, Topolobampo has lost some of its lustre in tough economic times as the shrimping industry declines. Cruise ships in the Gulf of California still make port here however, and the town acts as a gateway to the popular Copper Canyon region. There are some good restaurants, however most tourists choose to spend their days in Los Mochis.