Cozumel Travel Guide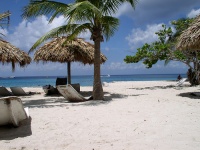 Cozumel Beach © steews4
The island of Cozumel is Mexico's largest island and popular destination with holidaymakers. Located 12 miles (19km) off the Caribbean coast of the Yucatan Peninsula, opposite the resort Playa del Carmen, it has exceptional coral gardens and spectacular reef drop-offs offering legendary snorkelling and the best diving in Mexico, ranking as one of the top five dive destinations in the world. The west coast of the island is where the majority of development has taken place and is where the town of San Miguel is situated. Due to the island's popularity with wealthy day visitors from the passing cruise ships, the town is packed with pricey shops, restaurants and bars, as well as the dozens of dive shops. Cozumel is a favourite holiday destination for divers and non-divers alike, offering some good beaches, crystal clear water and plenty of sunshine. Its ease of access to the mainland also makes day excursions to some of the popular Mayan sites, like Chichén Itzá, possible.
San Miguel is a duty-free zone, and there are hundreds of stores selling most things. The cruise ship passenger terminal at Punta Langosta Pier has a variety of shops, but these are among the islands most expensive, catering to day visitors with little time and lots of money. Prices decrease the further away from the docks one ventures. The waterfront shopping zone stretches to La Plaza behind which there is a craft market. For groceries, there are a few food stores, as well as the Cozumel Market on Adolfo Rosado Salas where holidaymakers can buy fresh seafood, spices and fruit and vegetables.
Cozumel offers food of every kind from local Mexican, to international and fast food franchises like Burger King - holidaymakers and visitors will not be disappointed. Casa Denis is one of the oldest and most popular restaurants in town featuring a variety of Mexican cuisine, and La Choza Restaurant and Casa Mission are other authentic Mexican food favourites. For seafood try Conchita, El Shrimp Bucket and Acuario Restaurant, which is on the water, or Guido's for Italian. Fresh and tasty fusion food can be had at Especias Restaurant on 3rd Street. For an unassuming authentic experience try Del Sur Argentina Empanadas with a delectable range of sweet and savoury empanadas including a bacon and plum one.
Although there is a wide variety of night time entertainment for holidaymakers to enjoy, things tend to begin and end earlier in Cozumel compared to the rest of Mexico. The most popular disco is Neptuno, while Carlos´n Charlie´s is popular with party animals. Lounge bars include Tequila Lounge and Ambar Lounge where drinks can be enjoyed in a relaxed atmosphere. No Name Cigar Bar is also a popular night spot and is located close to Hotel Barracuda.
Diving and snorkelling are Cozumel's main tourist attractions and its surrounding reefs and clear waters have earned it the reputation as one of the top dive destinations in the world. Hotels offer a variety of watersports, and activities such as deep sea fishing and swimming with dolphins are also available. Tours to the Mayan ruins of Chichén Itzá and Tulum on the mainland are also popular.
---
Cozumel is a cruise ship destination, and is popular with wealthy day visitors, which has driven the prices of shops, restaurants and bars to among the highest on the Yucatan Peninsula. The island becomes swamped daily by day visitors from passing cruise ships and San Miguel can be quite crowded.