Gulf Coast

---
Fort Myers Beach Travel Guide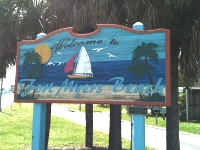 Fort Myers Beach © Sanibel sun
Billed as 'Florida's tropical island getaway', Fort Myers Beach is a haven for Floridians themselves seeking a relaxing family holiday, as well as visitors from the rest of the United States and abroad. The locals favour it simply because it still smacks of 'old Florida', and while it offers endless sport and recreational activities like the more frenetic destinations of the east coast, this beautiful resort town on the Gulf of Mexico remains affordable, relaxed, friendly and casual. Situated on Estero Island, facing the Gulf, the palm-shaded Fort Myers Beach has a wide white sandy shoreline sloping gently into the ocean, and locals claim it is the world's safest beach.
The village area is clustered along a tree-lined pedestrian walkway at the north end of the beach, offering shops and restaurants. The south is where numerous beachfront resorts with condominiums and hotels have sprung up around Lovers Key State Park. In between, the beach is lined with parks, recreation areas and marinas offering fishing and boating charters, sightseeing trips, dining and dancing cruises and even offshore gambling jaunts. On the opposite side of the narrow Estero Island, facing the mainland, is the Matanzas Pass Wilderness Preserve with dozens of acres of mangrove swamps, live oak hammocks and local wildlife to explore from elevated boardwalks.
Fort Myers Beach offers fun surfside shopping for visitors and holidaymakers to enjoy. The casual village area at the north end of the beach is called Times Square, offering restaurants, clubs, shops, hotels, picnic areas, a playground and water sports rentals. Barefoot is as good as high-heels in this busy spot, where you can buy all you need in the way of resort wear and beach essentials. For more serious shopping head across to the mainland for the area's centre of commerce, the city of Fort Myers itself, which boasts the Edison Mall, the largest shopping mall in southwest Florida. The mall is anchored by the main Florida favourites like JC Penney and Sears, with 150 speciality stores. The city also offers the Tanger Outlet mall with more than 60 shops for clothing, houseware and gifts, and the Spanish-style plaza called Bell Tower Shops, home to Saks Fifth Avenue and other major retailers. Fort Myers also has two flea markets, which pack in the crowds at weekends. Fleamaster's has more than 900 stalls selling souvenirs, gifts, arts and crafts, while Ortiz Flea Market deals mainly in locally grown produce.
The choice of restaurants in Fort Myers Beach is large and varied and although seafood predominates, it being the most sought after treat for most holidaymakers in Florida, there is also a good supply of steak, burgers and ribs to keep American all-rounders satisfied. The locals are a discerning bunch when it comes to fine dining, so visitors can be assured of a high standard and some delicious local specialities. The most unique dining experience offered here, one which should not be passed up, is a dinner or lunch cruise, or a relaxed boat trip to a nearby island to sample delights like grilled Gulf Coast grouper, Boca Grande littleneck clams or stone crab.
Sail away on a sunset dinner cruise, take in a movie, enjoy a play at the Broadway Palm Dinner Theatre, or dance the night away at a resort hotel when on holiday at Fort Myers Beach. This resort is not short on after-dark fun options. The area around Times Square is centre of the action, with establishments like the Pierside Grill and Famous Blowfish Bar offering live entertainment and dancing. The Junkanoo Beach Bar is the place for non-stop reggae parties running from midday to the early hours.
The prime attraction and centre of activity at Fort Myers Beach is the seven-mile (11km) sandy shoreline which has gained a reputation as the world's safest beach, with no undertow and shallow water ideal for swimming or holidaymakers wanting to try out the numerous watersports offered all along the beachfront, from jet-skiing to sailing a skiff. When the beach palls, there are always the nearby shops, golf courses, beachfront parks, bath-houses and the fishing pier to claim attention. Play basketball, tennis and volleyball at the courts at Bay Oaks Recreation Centre. Nature lovers can traverse Oyster Bay in a tram to Lover's Key to seek out shells, rent a kayak or canoe, have a picnic or take a boat tour. At the tip of the island is Bowditch Point Park offering nature walks and picnic spots, while on the Estero Bay coastline the Matanzas Pass Wildlife Preserve encloses 17 hectares (42 acres) of wilderness nurturing native plants and animals. Further afield take one of the numerous day trips on offer to the Everglades National Park. Commercial centres in the town and adjacent Fort Myers city offer a variety of more structured entertainment like cinemas, skate parks and sporting events. Fort Myers Beach also has a full annual event programme, topped by the March Shrimp Festival, the Christmas Holiday Boat Parade and the November Sand-sculpting contest.
---
Fort Myers Beach is an unpretentious resort town offering no glitz and glamour, with two and three star accommodation and facilities. The resort's attractions are mostly natural and rely on beach activities. Those who want more excitement and sightseeing need to rent a car to make day-trips to surrounding areas.