Gulf Coast

---
Sanibel And Captiva Travel Guide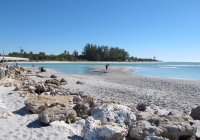 Sanibel Island © Invertzoo
Those who enjoy getting away from it all for their beach holiday will delight in the Florida Gulf coast resort island of Sanibel, and its smaller sister, Captiva, where the main event of the day is the magnificent sunset, and traffic stops for a tortoise to cross the road. The slow pace of island life rarely heats up, even during winter when the tiny resident population is totally obscured by the influx of vacationers. The families and romantics who holiday here do not come for the bright lights, but to enjoy the white sandy beaches strewn with an abundance of seashells, the crystalline, warm Gulf waters, the huge variety of wildlife, and the fabulous fresh seafood. These islands have no high-rises or honking horns, but they do offer all the amenities to make for a comfortable and relaxing holiday. There are shops and services, some wonderful restaurants, even live theatre and the occasional musical performances. The more exclusive and upscale of the twin islands is Captiva, connected to Sanibel by a bridge. Captiva is tiny and smacks of wealth and quiet charm, topped off at its northern end by the luxurious all-inclusive South Seas Resort. This is the place to 'unplug', unwind, go barefoot and snooze under a palm tree.
A favourite past time on Sanibel and Captiva is searching for seashells, but holidaymakers can have just as much pleasure from treasure seeking among the abundance of island galleries and antique and heirloom jewellery stores. The islands are a haven for artists, and antiques mingle comfortably with art in the galleries and shops along Periwinkle Way, Tarpon Bay Road and Palm Ridge Road on Sanibel, as well as in Captiva's village area. Boutiques offer arty clothes and furniture, also worth investigating. For the rest all the necessities are available in the island shops, from 'island-style' clothes and shoes to liven up your holiday wardrobe to books, speciality foods and beach and pool toys.
Holidaymakers will find that Sanibel and Captiva islands are gourmet paradises, with award-winning restaurants stretching from one end to the other, and there is 'no jacket required' at any of them. In fact, many visitors like to cycle along the local bike paths to their favourite eateries to ensure they work up an appetite for the diversified cuisine offered. There are take-away delis, hot dog and burger joints, sports bars, pizza places, fine dining and so on to choose from. The islands' speciality, however, is the fresh seafood straight from the docks, said to be Florida's finest and freshest, including jumbo shrimp, sweet scallops, juicy crabs and great grouper. Thistle Lodge on Sanibel Island is a firm favourite where diners enjoy seafood and nightly entertainment in an historic Victorian mansion on the seaside. By contrast the Mucky Duck on Captiva boasts the atmosphere of a traditional British pub with a menu to match; the shrimp are still there, but so are fish and chips and roast pork.
After enjoying the magnificent sunsets on the islands there is no need to dash off to bed. There are no neon-lit nightclubs around, but most of the restaurants, bars and resorts feature live music and sometimes dancing for those who still have the energy to spare. On Sanibel a popular spot with locals and holidaymakers alike is the Beaches Bar and Grill which has live bands and dancing after 9pm. On Captiva the Crow's Nest Lounge is the top dance venue. Sports fans can relax with darts, pool, games and large-screen TVs at several popular sports bars. Those wanting a good laugh can take in a show at the Old Schoolhouse Theater in Periwinkle Way, where audiences have enjoyed fun-filled revue evenings for more than 10 years.
No holiday visitor spends very long on Sanibel before developing the 'Sanibel stoop', the posture required for collecting shells along its 17 miles (27km) of beaches, which are world-famous for the abundance of seashells deposited here. The island's shores are uniquely located to act as a natural net for seashells, and each day holds new surprises. Captiva has shells aplenty too, but Sanibel's stock is breathtaking. The Bailey Matthews Shell Museum is a good place to start to learn more about shells and shelling. Birding, biking and water sports are other recreational pursuits the island's offer in abundance. There are local attractions like the J.N. 'Ding' Darling National Wildlife Refuge, the Sanibel Historic Village, the historic lighthouse and fishing pier, the C.R.O.W. wildlife rehabilitation centre and the Captiva Chapel by the Sea to explore. Day trips to outer islands or across to Fort Myers on the mainland are freely available. The B.I.G. art centre on Sanibel invites visitors to try their hand at different crafts like pottery and drawing.
---
The island resorts of Sanibel and Captiva are not designed for those wanting bright lights, excitement and structured entertainment. Life for both residents and visitors is slow-paced and eco-tourist focussed. Resorts and hotels tend to be expensive.