Swakopmund Travel Guide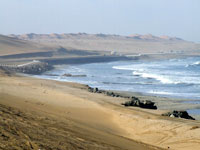 Swakopmund coastline © Judith Duk
Swakopmund is an enchanting little seaside town in the middle of the Namib Desert. Often described as 'a slice of Germany on the edge of the desert', it has many fine German colonial buildings and a distinctly German character. Along with the region's food specialities (rock lobster, fish and Swakopmund oysters), traditional German fare, including sausages and pastries, can be enjoyed; German is also widely spoken among the residents of Swakopmund.
A popular beach resort in Namibia, Swakopmund is full of local tourists on the weekends, particularly the main beach area, called the Mole. Swakopmund is known as a paradise for extreme sports, and popular activities include sand boarding, paragliding, dune carting, hot air ballooning, shark fishing and quad biking. The stretch of coast is also particularly known for its good beach angling.
Visitors who aren't looking for death-defying activities will enjoy attractions in Swakopmund like the Cape Cross Seal Colony, the National Marine Aquarium, and the Rossmund Desert Golf Course, one of only five all-grass desert golf courses in the world.