Iquitos Travel Guide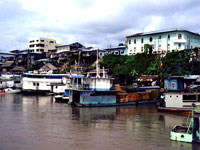 Iquitos © Galen R Frysinger
The gateway to the Amazon, Iquitos is the largest city in the Peruvian rainforest. Only accessible by plane or boat, the town is a popular base for Amazon tours and treks through the rainforest and the Pacaya-Samiria National Reserve. A popular tour from Iquitos is a boat tour of Belén, a nearby community of houses tethered to poles in order to float in the river's waters. Belén also has a popular open-air market trading in local plant and animal medicines.
The river system around Iquitos offers some of the Amazon's best access to remote parts of the jungle and to Indian villages, and boat excursions can easily be arranged. Native tribes live along the river banks and organised trips to the villages include a show of traditional song and dance along with plenty of encouragement to buy their handicrafts, now a major source of income for the people.
Hot and humid all year round, Iquitos was originally founded by Jesuit missionaries in 1754, and has grown to a bustling city of nearly 400,000 residents. Colonial buildings and museums tower over clapboard houses and the streets buzz with motorcycles and buses. Some of the popular tourist attractions in Iquitos include the Amazonian Manatee Orphanage and Monkey Island.