Vila Do Conde Travel Guide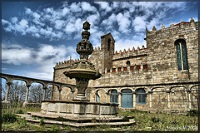 Vila do Conde © Francisco Silva
A small town at the mouth of the River Ave, 17 miles (27km) north of Porto, Vila do Conde has become a popular summer holiday resort because of its sandy beaches and rocky reefs, though it feels very little like a resort.
The town has some entertaining local industries, mainly hand-hewn boat building, lace-making, hand-knitting and sweet making.
Visitors are welcome at the Rendas lace-making school, where fine examples of the local lace can be purchased, and the large Friday market is a good place to find both souvenirs and excellent local food.