São Miguel Travel Guide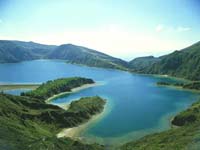 Lagoa do Fogo, Azores © Portuguese Department of Tourism
São Miguel, largest in the Azores group, is a scenically spectacular holiday resort destination, with green pastures and forest-covered volcanic peaks. The island may be the largest, but it is still very small - just 40 miles (64km) long and 7.5 miles (12km) wide.
The São Miguel town of Ponta Delgada is the largest in the archipelago, and features an historic centre with pretty white-washed houses dating from the 17th and 18th centuries. There are numerous low-key holiday accommodation establishments and good restaurants. The island is famed for its delicious pineapples and intricate embroidery.
São Miguel has a three-level shopping mall, Sol Mar, with several movie theatres in addition to shops. Popular São Miguel souvenirs include edibles like local cheese and tea.
There are a number of good restaurants, centred mostly in the towns of Ponta Delgada and Ribeira Grande. O Gato Mia in Ribeira Grande is famous for its local Portuguese fare, as is Restaurante Sao Pedro in Ponta Delgada. Rotas has excellent vegetarian cuisine, and Pizzaria Ponta is popular with expats.
The nightlife in São Miguel is low-key and café-based, but there are a few lively bars in Ponta Delgada and Ribeira Grande that stay open quite late. Bom Bom Bilhares in Ponta Delgada has live music and pool tables.
São Miguel's most alluring attraction is Sete Cidades, a 15 square mile (40 sq-km) volcanic crater containing two lakes, one deep blue, and the other emerald green. The island also features a tropical garden at Terra Nostra Park, where it is possible to bathe in therapeutic spring water, as well as the only tea plantation in Europe, sited at Gorreana. There are a number of marked hiking trails around the island, and dolphin and whale watching trips are popular activities.
---
Avid partiers will find São Miguel's nightlife lacking.