The Algarve

---

---
Faro Travel Guide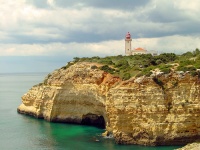 Carvoeiro Lighthouse © BK59
The provincial capital of the Algarve, Faro is a modern, lively city with attractive shopping precincts, good restaurants and a frenetic nightlife, an exciting holiday destination. Thousands of travellers pass through the city en route to and from the resorts of the Algarve. Those who choose to linger awhile will find a town full of charm and colour with an interesting history and the feel of a true Portuguese fishing port.
There are some sightseeing opportunities while on holiday in Faro, mostly centred in the Old Town or Cidade Velha, which is entered through an 18th century gate and enclosed by the remnants of medieval walls. Faro's most famous attraction is a macabre one at the Igreja do Carmo, which features a chapel whose walls are decorated with the bones of more than 1,200 monks disinterred from the neighbouring cemetery.
Another worthwhile attraction near the city is the Ria Formosa Natural Park, and a short distance to the north is the peaceful village of Estoi, boasting a pink Roccoco palace and Roman ruins dating from the 1st century. To enjoy the beach while on holiday in Faro, one has to travel a few miles; a long sandy spit lies across a bridge near the International Airport.
Faro's main shopping area is in the heart of town along the Rua Santo Antonio and the Rua Francisco Gomes. There is also an interesting, colourful produce market on the Largo do Mercado open every day where visitors on holiday can mingle with the locals. Good holiday buys in Faro are the local handcrafts, like basketware and embroidered goods, local wines and traditional clothing. Also sought after are locally made ceramic tiles decorated with traditional motifs.
A huge variety of restaurants and food stores line Faro's pedestrianised Rua de Santo Antonio, catering for all tastes and budgets. A must is to sample the local cakes and desserts, deliciously made of juicy figs and almonds. For a fishy feast there is Dois Irmaos, the city's oldest seafood eatery, where the fresh catch of the day is on display. For well-priced Algarve specialities, Adega Nova is a good bet, or Le Marquis Restaurant. Lunch Caffe S. Pedro is popular with expats for its reasonably-priced English food.
Being a university city, Faro has a vibrant student population who ensure that nightlife keeps pumping. It all happens along the Rua do Prior and in the narrow alleys off of Rua Conselheiro Bivar and Rua Infante Dom Henrique. Dance clubs get going around 11pm or midnight, while bars are open for business any time from noon until the early hours. The Upa Upa Café and Bar at 51 Rua Conselheiro Bivar draws locals and tourists. The nightclub, Dux, is the place to party until the early hours and the trendsetters should head for the Fashion Kaffe.
Faro's main attraction is its quaint old town, where holiday visitors can wander and enjoy some architectural sightseeing, and brush up on their history. There are some worthy museums in the town too, like the archaeological Municipal Museum housed in a former convent and a maritime museum displaying a collection of model ships and boats. The city offers a taste of the traditional old Portugal for visitors making a stopover en route to an Algarve resort. Those who want to try out the local beach will find it to be a clean stretch of golden sand where umbrellas and sunbeds can be hired and all sorts of watersports undertaken.
---
Faro is a bustling, working city and not a holiday resort town, the emphasis being on its historical attractions rather than fun in the sun. The city can be rowdy at night with many young revellers.