Isle Of Skye Travel Guide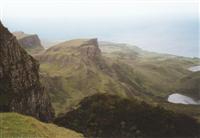 Isle of Skye
Linked to the mainland by the Skye Bridge in 1995, the Isle of Skye is the most scenic and easily accessible of Scotland's many islands and attracts thousands of visitors on holiday each year. The weather is unpredictable, but when the sun shines there are few more beautiful places in Europe - it is an island of rough textures, soft colours and fine light that whispers of romance and escape.
It was from the Isle of Skye that Flora Macdonald helped Bonne Prince Charlie escape to France and it is said that they had a short relationship. There is a display on the escape at the Skye Museum of Island Life, and Flora Macdonald's grave lies nearby. Towards the west of the island is Dunvegan Castle, home to the chiefs of MacLeod for over 700 years, and the Isle of Skye's most famous historical landmark. It has some fascinating exhibits, lovely gardens and a restaurant to enjoy on holiday.
Despite a rich and cruel history, which includes Viking invasions and bitter clan feuds, the Isle of Skye has retained its strong traditions and has a thriving Gaelic culture - the majority still speak Gaelic as their first language. The Isle of Skye lies on the northwest coast of Scotland, about 250 miles (402km) by car from Edinburgh.