Garden Route

---

---
Knysna Travel Guide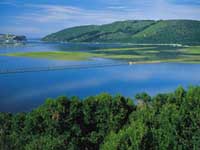 Knysna Lagoon © SATOUR
The beautiful town of Knysna is clustered around a vast tidal lagoon which opens to the sea through a narrow inlet guarded by two sandstone cliffs known as 'The Heads'. Arguably the most popular holiday hub of the Garden Route, Knysna draws more visitors than it can cope with, particularly during the peak summer holiday season.
The town has an interesting history, having started as a point of export for timber cut from the surrounding dense forests (which have been badly denuded as a result). In the early 19th century the town was almost solely owned by the enigmatic character George Rex, who was believed to be the illegitimate son of King George III of England. Rex fathered 13 children and is a legend in the Knysna area.
The town features some quaint Victorian houses, a modern commercial waterfront development, a lovely sandy beach at Leisure Isle on the east side of the lagoon, and some good shopping for local arts and crafts in the crowded town centre. There are some lovely scenic drives and walking trails through the remaining indigenous forests in the area, and sampling Knysna oysters and locally-brewed Mitchell's beer while on holiday here is highly recommended. The best time to visit Knysna is during its annual Oyster Festival, held every July, which includes music, food, sporting events, and of course oysters!
Knysna's three shopping malls have a variety of shops, and there are numerous local art, craft and curio shops in and around the town centre.
In and around Knysna one will find a selection of fine restaurants, seafood taverns, pubs, coffee shops and eateries. The waterfront has a variety of restaurants, serving food like oysters and seafood at 34 Degrees South to traditional South African fare at JJ's Restaurant. For fine dining there are special places like Glenshiel at Parkes Restaurant, while international fare includes Mexican, Italian, Moroccan and Asian.
The Oyster Catcher, on the Knysna waterfront, is a great spot for holiday sundowners and Crab's Creek, on the other side of the lagoon, is another favourite with a range of draught beer on tap and a laid-back atmosphere. For late night entertainment, Club Tryst is Knysna's hotspot, boasting a cocktail lounge, sports bar, pool tables, dancing and live music. More late-night fun can be had at Chilli Groove, and venues Al's and Tin Roof host regular live music
Knysna's location on the lagoon, near to forests, the sea and the mountains, means that there are a range of holiday activities on offer, from paddling to hiking, mountain biking and horseriding. The Heads Adventure Centre specialises in a variety of activities including abseiling and scuba diving. A really fun way to experience Knysna is to hire a house boat for a few days and sleep on the water.
---
In the peak summer holiday season, Knysna gets very crowded and accommodation is difficult to find. The national highway N2 passes through the centre of town and traffic jams are common.