Costa Brava

---

---

---
Roses Travel Guide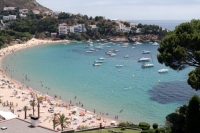 Almadraba beach, Roses © In Praise of Sardines
The largest holiday resort town on the north of the Costa Brava is the busy, crowded port of Roses, founded by the ancient Greeks but sporting few remnants today of its long history besides a crumbling citadel and sections of city wall. Instead the harbour town, where once a handful of British sailors repulsed an attack by Napoleon, is now a mass of typical high-rise resort developments, rising in tiers from a busy harbour and a few miles of man-made sandy beach, abuzz with holidaymakers indulging in all sorts of watersports. There is an aquatic park, go-karts, numerous take-away and fast food restaurants, scuba centres, cruises from the harbour and many more tourist amenities. The town is famous for its sunset over the Gulf of Roses.
Most of the shops in Roses are concentrated near the beachfront area. There are a few good markets around the town centre selling locally made holiday souvenirs such as jewellery, leather goods, and fabric. The best market is held in Roses every Sunday.
There are a number of restaurants in Roses serving excellent local Catalan cuisine. Try the suquet de peix, a stew made from fresh fish and shellfish. For the best food in Roses, holidaymakers can visit the world-famous El Bulli restaurant, Pasko's Balkan Grill or Rafas. The area around Xines Mulan has a range of cuisine from Mexican to steaks and Chinese food.
Roses' nightlife is bustling, with every option from live flamenco music to thumping house clubs. New Orleans in Avenida Clot dels Franquets Nord is home to the most clubs, and popular venues include Octopussy, Picasso, and Chic. Roses hosts regular fiestas and festivals, on almost a monthly basis.
History buffs will find plenty of ancient cultural sites to visit, including the Citadel, which was built in 776 BC by the Romans. Roses is a haven for bird watching and other wildlife spotting, with several observatories and other animal centres in the area. You can also see Salvador Dali's former home only 12 miles (19km) away, or visit the Dali Museum in Figueres. The man-made beaches offer opportunities to swim, snorkel, sail, or just lie on the beach and get that golden tan, while the surrounding Catalonian countryside has a great range of sightseeing attractions.
---
Some neighbouring beaches are nudist beaches and families travelling with children should take this into account before booking a holiday.