Adra Travel Guide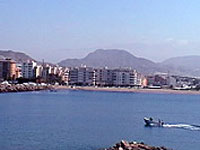 Adra\'s charming coastline
The delightful holiday resort town of Adra, the western-most coastal town in the province of Almeria, is surrounded by magnificent beaches and is rich in history, having been founded in the 8th century. Adra remains a working fishing harbour and early-rising visitors enjoy the daily dawn fish auctions and dining out at the many tempting seafood restaurants.
The clean, neat town centre with its many squares and parks is split by the attractive Paseo de Natalio Rivas promenade. Sights to see include the Church of the Immaculate Conception, the Partridge Tower (which houses the tourist office), an historic restored mill and the town's interesting museum. Adra boasts the Poniente blue flag beach among its stretches of beautiful sandy shore, attracting hundreds of holidaymakers each year.
Apart from a couple of tourist shops selling suntan lotion and beach-themed souvenirs, there is no shopping to speak of in Adra.
Head to the tapas bars on Paseo de los Tristes in the town centre, and along the beachfront. This is probably the tastiest and most authentic food in town - and it's free provided you're drinking. Restaurants are few and far between, and tend to be expensive. Fresh seafood is the specialty.
Adra has no nightlife to speak of, although it is less than one hour away from Almeria where there are a few clubs and bars.
The whole point of coming to Adra is to do as little as possible, so most activities are centred around the three main beaches: Poniente, the largest of the three and situated west of the harbor, San Nicolas and Censo. One can also visit the charming 16th century Parish of the Immaculate Conception and Church of Our Lady of Angustias. In June various bonfire festivals are held around Adra. Alternatively, the Museum of Adra provides visitors with an extensive look into the history of the town. Next door to the Museum visitors to Adra can view the Molino de Lugar a beautifully restored mill originally built in 1772. A short trip from the beach is the San Sebastian Hermitage which holds statues of Adra's two patron saints, Nicholas de Tolentino and the Virgin of the Sea.
---
Adra can be a little quiet and uneventful for those holidaymakers looking for a party.