Costa Ballena Travel Guide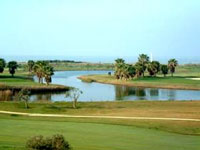 Costa Ballena © costadelaluz
The purpose built holiday resort of Costa Ballena is conveniently located about an hour away from Seville, between Rota and Chipiona in the centre of the Costa de la Luz. Surrounded by fresh water lakes and pine-covered hills, the holiday resort was designed with the environment in mind and one will not find the typical high-rise hotel blocks common to many beach resorts. In fact, visitors to this Spanish resort will soon find the town's parks and gardens a breath of fresh air when compared to your typical holiday resort towns.
In fact, Costa Ballena has been hailed as a one of a kind holiday destination in Europe, environmentally friendly while still offering a range of exciting holiday activities and amenities. A rather romantic story is attached to the town's name. In ancient times, a large whale (ballena in Spanish) was seeking a sanctuary, a place of paradise to end its years, and after much wandering, it found a spot near the coast of Cadiz - Costa Ballena.
The town itself comes pretty close to paradise and while on holiday, visitors can enjoy beautiful surrounds dotted with lakes, orchards and parks, uninterrupted stretches of beach, and activities such as horse riding, bowling, golfing, surfing and windsurfing. Visitors on holiday in Costa Ballena can also explore neighbouring areas and soak up some traditional Spanish culture, visit sherry-producing bodegas and whitewashed villages, take a boat to Doñana Natural Park, or catch a spectacular Andalusian horse show.