Costa Del Sol

---

---
Malaga Travel Guide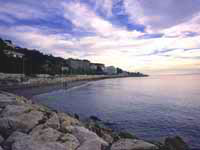 Seafront Promenade, Malaga © Costa del Sol Tourist Board
The lively city of Malaga, on the coast about 80 miles (129km) southeast of Seville, is the gateway to Spain's popular Costa del Sol holiday resort region. The city was also the birthplace of Pablo Picasso, and features several galleries displaying his work. Most notable is the 16th-century Museum of Fine Arts, alongside the cathedral. Picasso's birthplace in Plaza Merced is open to the public and showcases his life and works. Like most Andalusian cities, the holiday retreat of Malaga has Moorish roots and its illustrious past has left an imprint on the historic centre, particularly around the fortress of La Alcazaba, dating from 1065, which is now an archaeological museum. The Moorish castle nearby is used as a state hotel. The city's famous botanical garden, situated on the Calle Alameda, dates from the days when the Malaga area was a popular winter holiday resort for the rich and famous, and is also worth a visit. Malaga is a holiday resort city offering sun, sand and sea, but it is also an historical treasure trove, making it a good choice for culture vultures wanting a beach holiday.
Calle Marques de Larios is the main shopping avenue with plenty of swanky boutiques and galleries, while small, family-run shops can be found on the side streets. Local speciality goods include leather bags and shoes, embroidery, iron work and ceramics. El Corte Ingles, on Avenida de Andalucía, is a multi-story department store stocking everything under one roof. The best food market in town is the eclectic Atarazana, open daily until 2pm.
There are top-rated restaurants to enjoy while on holiday in this Spanish resort town. Among some of the most highly recommended restaurants in Malaga are Clandestino, La Paloma, El Campanario de Ignacio and El Tintero.
Malaga is the capital of the Costa del Sol and has the varied, high-quality nightlife to match. Tourists in Malaga need only take their pick from the varied nightlife venues, which include nightclubs, tapas bars and traditional flamenco performances. Some of the best bars and clubs can be found around Plaza del Merced and Plaza Uncibay, while the areas of Malagueta and Pedragalejo have lively beach bars in summer. A good collection of laid-back bars line Calle Granada and Plaza del Vado del Maestre just off Calle Calderería. For all-night Flamenco dancing, tourists and locals alike head to Avenida de los Guindos and Calle Las Lazcano. Malaga also has several theatres, dance troupes and even a resident philharmonic orchestra.
This region of Spain has been playfully dubbed the 'Costa del Golf' due to its 39 golf courses; year-round sunny weather and low course fees make a round or two a great option. Bullfights are held during season at the Plaza de la Malagueta. A range of worthy activities beckon from off-shore: scuba diving, sailing, windsurfing and kite surfing are all popular in the warm waters. Beachside tour operators can arrange equipment rental and instruction. The more adventurous tourists in Malaga can take short daytrips to the beautiful beaches of Nerja or Motril, while the town of Ronda will provide you with ample opportunity to take the perfect holiday pictures of Spain. For those who need a break from the beaches but don't want to venture too far from Malaga, the Museo Picasso Malaga is worth a visit; while the Alcazaba on Plaza de Aduana is an exciting step back in time.
---
Malaga can be crowded and expensive and the beach is unfortunately located next to the main road.
What to see in Malaga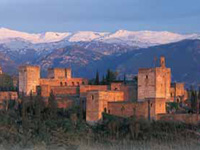 Granada, a high altitude city of romance and folklore, boasts one of the most popular tourist attractions in Spain, the…

read more