Costa Del Sol

---

---

---

---
Torremolinos Travel Guide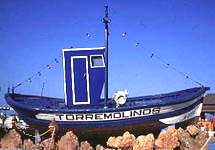 Torremolinos © Jason Dixon
Southern Spain's answer to Benidorm, Torremolinos is a vast purpose-built holiday resort situated 10 miles (16km) west of Malaga, on the road to Marbella. Holidaymakers looking for a cultural experience will be disappointed, as Torremolinos, particularly in high season, is noisy and fast-paced, 24 hours a day. With six miles (10km) of wide, sandy beaches, lots of watersports, masses of bars and restaurants and an exhausting nightlife, the resort attracts tourists of all ages from all over Europe. There is a large gay scene, but the resort is equally popular with families and the inevitable 18 to 30 crowd.
There is a great range of shops in Torremolinos ranging from international clothes stores to lots of small shops catering for holidaymakers. Good buys include the local jewellery, leather goods and the famous Spanish Lladro porcelain. For self-caterers, there is a good selection of corner shops and supermarkets stocking all the well-known international brands. Calle San Miguel is at the heart of the shopping centre; it is an attractive pedestrianised street, flanked by small shops and cafes and is a good place to sip sangria and people watch for those not interested in shopping. More extensive shopping can be found in Malaga.
Torremolinos is packed with restaurants catering for the tourist trade and menus, usually in a few languages, offer good staple dishes such as fish and chips, steak, pasta and schnitzel; popular options include Kate's Cottage and Bistro Europa. However, some excellent Spanish restaurants are also around, particularly those serving tapas. The best seafood restaurants are in the fisherman's district of La Carihuela, which has been relatively undisturbed by high-rise hotels and has retained its Andalucian coastal charm. The upmarket harbour at Puerto Banus is only ten miles (16km) along the coast and is packed with good restaurants overlooking rows of expensive-looking yachts.
Some of the most popular restaurants in Torremolinos include Cafe Fresco, El Sabor, La Cacerola, and Spanish Garden. For something a bit different, try The Carvery (Italian), The Kathmandu Nepali Indian Restaurant (Indian), and Shang Hai Restaurante Chino (Chinese).
The nightlife in Torremolinos can be fairly intense, with dozens of bars and clubs catering for all tastes and persuasions. A good place to start the evening is in one of the tavernas in Calle San Miguel or in one of the cafés and restaurants that line the promenade. Torremolinos is also home to the chiringuitos beach cafe/bars, focused in La Carihuela. The clubs start to open at around 10pm; the Palladium disco being a good bet. The best selection of clubs is along Avda Palma de Mallorca. There is a big gay scene in Torremolinos centred on La Nogalera, where the clubs vary from the mainstream to drag bars. Exotic shows are a feature here and are popular with both the gay and straight visitors.
Most holidaymakers come to Torremolinos to spend idle days on one of its beautiful beaches. The largest and most popular two are Playa La Carihuela and Playa El Bajondillo, both offering safe swimming and all sorts of watersports. Bars and cafés along the promenade offer respite and refreshment away from the sun. The nearby water park, Aqualand Torremolinos, is a great family day out, as well as the nearby Crocodile Park. Bullfights at the Plaza de Toros are another exciting activity.
Although not famous for its cultural attractions, Torremolinos offers some pleasant historic neighbourhoods in La Cariheula, and a few other attractions, including the Pimentel Tower, Battery Park, and the Pablo Ruiz Picasso Cultural Centre. The spectacular hilltop town of Ronda is also worth a visit for those wanting to escape the beach for a day.
---
Torremolinos is a sprawling purpose-built holiday resort; those expecting any cultural or architectural merit will be disappointed. Explore a few miles inland, however, and the real Spain can quickly be discovered. As with most large resorts Torremolinos is very commercial, tourists are regularly pestered by salesmen selling everything from trinkets to timeshare apartments. Be firm and don't trust anyone with scratch cards. Guests at some hotels have to climb lots of steps when returning from the beach - elderly people should check before booking, however in general the resort is easy to get around with an excellent bus and train system. The centre of Torremolinos is fairly run-down in places; the suburbs of Benalmadena and Fuengirola are cleaner, friendlier and cheaper.