Corralejo Travel Guide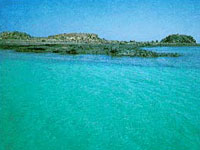 Corralejo
Once just a tiny fishing village on the north coast of Fuerteventura, Corralejo's harbour now receives ferries full of day-trippers from Playa Blanca in Lanzarote every day and the town plays host to hundreds of holidaymakers who are drawn to spend a sunny, sandy holiday in the island's tourist magnet. Although tourism is booming and development is keeping pace, the little port still retains its charm. Just outside the town is a protected nature reserve festooned with miles of sand dunes. The surrounding beaches are more than inviting and visitors to this Spanish resort town are spoilt for choice with beaches such as the sheltered Playa la Clavellina just near the harbour, or Playa del Medano which joins to Playa de Viejo. Playa del Pozo is also located just outside of Corralejo and is popular with nudists.
The main street, Calle General Franco, is flanked with shops selling everything from radios to surfboards, and suntan oil to luxury watches. There is a good craft market on Saturdays at the Caleta de Fuste.
While in Corralejo, recommended eateries for holidaymakers are El Bribon, The Point Restaurant, El Pescador or the Taverna Los Piratas Bar Tapas. The waterfront promenade boasts numerous restaurants and cafes, most in converted historic houses. Corralejo's restaurants offer a wide choice, from good old English fish and chips to Mexican tacos or Indian curry. There is even a smattering of eateries serving up Canarian cuisine and fresh seafood.
Most of the bars and restaurants in Corralejo are on the main street, Calle General Franco. There is a variety of bars and clubs, with everything from sports bars and karaoke to dance clubs and live music. The high street and town square have a number of quieter restaurants and lounges. The clubs close around 1am, and the bars stay open later. Grab a copy of the free Fuerteventura Grapevine magazine for event listings and a nightlife guide.
Among the activities to keep holidaymakers busy in Corralejo are a variety of watersports, tennis, glass-bottom boat trips, ferry trips to Lanzarote, jeep safaris, island tours, mountain biking and motorcycle tours. The Baku Waterpark and Golf complex is centrally located.
---
Corralejo can be quite expensive and travellers on a budget should take this into account before booking a holiday. Families should be aware that the beach area around Playa de Pozo is popular with nudists.
What to see in Corralejo