Gran Canaria

---

---

---
Las Palmas Travel Guide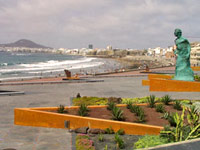 Playa de las Canteras, Las Palmas
The capital of Gran Canaria and a bustling holiday resort, Las Palmas is situated on the northeastern tip of the island, between two long stretches of beach. The city was founded in 1478 and was the spot where Christopher Columbus began each of his voyages to the Americas. Much of the original Vegueta district remains behind the modern apartment blocks, which line the seafront, and there are many interesting ancient sights and museums to visit. The ambience is lively, evidence of a population of southern temperament that don't always take life very seriously. Las Palmas' great cultural offerings, attractive festivities and highly recommendable cuisine attract thousands of holidaymakers every year and make for a memorable stay. Of course, the surrounding stretches of beach are also a big draw card, and the fact that the city is the gateway to the whole island, and the main travel hub, is an extra perk.
There are numerous shopping centres for holidaymakers to enjoy in Las Palmas such as El Corte Ingles in Mesa y Lopez, which is Spain's largest national department store. It boasts 13 floors of shops, in total, housed in two buildings. Las Arenas in Las Canteras is another great shopping mall, and a favourite with tourists, as is Centro Comercial Las Arenas. One of the many street market is well worth a visit, because the markets are generally good for souvenir shopping.
Las Palmas' top-rated restaurants catering to holidaymakers include La Buena Vida, El Novillo Precoz, Buenos Aires Grill and Tobarne Macabeo. There are plenty of seaside restaurants to choose from, as well as numerous tapas bars where travellers can eat and mingle with the locals, experiencing true Canarian cuisine. Since Las Palmas is not completely dominated by tourists, prices are often up to 50 percent less than on other parts of the island. Plaza Santa Catalina is a must; diners can enjoy the warm evenings in one of the many open-air restaurants.
Holidaymakers looking for a fun night out in Las Palmas should head to Plaza de España, in the Mesa y Lopez district, which is usually packed until the early hours of the morning. The Heineken is a favourite spot for locals and is a good place to start the evening off, and the Rum Museum is a good place to sample rum cocktails. Hip-swaying salsa music, live bands, cover bands, jazz, or anything else can be found in Las Palmas. There is even has a casino where a spot of gambling can be done and visitors can take in a few shows.
The warm waters surrounding Las Palmas provide perfect conditions for all kinds of water sports for holidaymakers to enjoy, including sailing and boating. Many of the resorts have their own tennis courts and golf courses, or have contracts with others so that holidaymakers can play when they so desire. Whale watching is another popular activity and tickets can be bought from companies taking tourists out on boats for the day. Many exciting excursions to other destinations and attractions on the island are possible.
---
Las Palmas is very developed and is not the best place for holidaymakers looking for a picturesque or peaceful holiday resort.
What to see in Las Palmas