Lanzarote

---

---

---
Puerto Del Carmen Travel Guide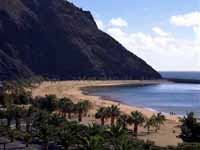 Puerto del Carmen, Lanzarote
Set beneath a range of steep hills on the south coast of Lanzarote, Puerto del Carmen is the island's major holiday resort. Its main feature is a spectacular two-mile (3km) golden beach, which is backed by a main road, The Strip, where shops, bars and restaurants of every variety can be found. The Old Town retains some of its old world charm but for the most part the resort of Puerto del Carmen is a sprawling holiday complex offering entertainment for all ages. It is the centre of the Lanzarote's nightlife and is within easy distance of all the island's key attractions.
Puerto del Carmen is stuffed with shops of all kinds, from duty-free electrical stores and stalls along The Strip targeting holidaymakers, to the excellent clothes shops and boutiques in the Old Town. The Sunday Market in Teguise is worth a visit; as well as the usual tourist tat and holiday souvenirs visitors will find a variety of locally produced goods from pottery to tablecloths. It is around €14 each way by taxi.
There are hundreds of restaurants to suit all holiday makers' tastes and wallets in Puerto del Carmen, the most popular being La Bottega Della Pasta, Casa Bodeco's, Bodega and Chiquito. Most restaurants are on The Strip, serving everything from local cuisine to fast food, as well as Chinese, Mexican and Indian food. There are many fine restaurants near the harbour in the Old Town. Those wanting to get out of Puerto del Carmen for the evening can take a taxi to the old capital, Teguise. It has a lovely atmosphere in the evening and a few good restaurants.
Puerto del Carmen is the main nightspot on the island and its population swells most evenings as tourists from other holiday resorts come to enjoy its bars and clubs. There are loads of good English, Irish and Scottish bars in the New Town along The Strip. The Centre Atlantico has a number of cocktail bars and can be a good spot to start the evening. The Hippodrome is also here but more serious clubbers may prefer Caesars. There are also several live music venues and karaoke bars, while the Star Bar provides great family entertainment.
Holiday makers can enjoy all sorts of watersports in Puerto del Carmen on the beach, from banana boat rides to jet skiing and sailing. Windsurfing is particularly good due to the strong regular winds. Deep-sea fishing is also excellent and can be arranged through a couple of operators. Scuba diving schools take trips to local wrecks as well as offering lessons. For land-lovers there is tennis and squash within the resort and golf and horse riding nearby. Boat trips go from the harbour and from Puerto Calero. Further afield visitors can explore the dramatic landscape of the Timanfaya National Park. Most activities can be organised through the tour operator reps, though it is sometimes cheaper to book directly.
---
Whilst water is safe for cleaning teeth and washing food, it is very high in mineral content and can cause bad stomachs. Bottled water should be used for drinking. There are lots of people trying to sell tourists everything from trinkets to timeshare apartments; if you are not interested avoid getting into a conversation.
What to see in Puerto Del Carmen