Calas De Mallorca Travel Guide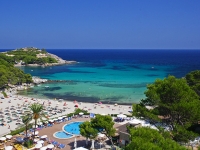 Mallorca © Max ☢
The relaxed and quiet purpose-built holiday resort of Calas de Mallorca is in the centre of the east coast of the island, close to the towns of Manacor and Felanitx. The resort is set on a cliff top and is therefore not ideal for those with disabilities or for the elderly, but does have lovely views and good beaches, and is popular with families with small children. Playa Domingos is the principal beach and offers warm, crystal clear water that is perfect for snorkelling; the water can, however, get quite rough at times.
Calas de Mallorca has the usual selection of tourist shops near the hotels in the Centro Commercial. There is a Sunday morning market in nearby Felanitx that has a selection of souvenirs, including good examples of local pottery. The prices are high especially for tourists, so be prepared to bargain if you want a good deal.
Calas de Mallorca has great restaurants for holidaymakers to enjoy, the best of which are C'an Gusti, Cosme Oliver Pila, Explotaciones Hoteleras Edama and Jose Noguera Julia.
The resort is not known for its nightlife. There is a small collection of bars and restaurants in the Centro Commercial. While most of Calas de Mallorca's nightlife is hotel-based, there are a few live music venues and one or two clubs of which Jupiter's or Tiffany's have received positive reviews.
The nearby town of Manacor is the home of the Majorca Pearl Industry, which manufactures pearls from a mixture of glass and pulverised fish scales. Avid golfers will enjoy the Vall d'Or golf course, which is only ten minutes away.
---
Public transport is limited and unreliable. The beaches have strong undercurrents and are not suitable for weak swimmers. Calas de Mallorca is not frequented by the single 18 to 30 age set and the resort's cliff-top location means that it is not well suited for elderly patrons or those with disabilities.