Palma De Mallorca Travel Guide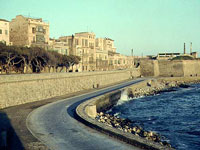 Palma de Mallorca © Galen R Frysinger
Palma, capital of the autonomous region of the Balearic Islands, is a lively, cosmopolitan city in true Spanish tradition, its centre forming a bustling montage of shopping centres, a maze of narrow lanes and restored buildings surrounded by ruined ancient city walls, and modern boulevards. Like mainland Spain, Mallorca and Palma itself was under Moorish control between the ninth and 13th centuries until the re-conquest by Jaume I of Aragon.
The Moorish heritage is still evident, as are the remnants of Palma's golden years when it rose to wealth and prominence in the 15th century as the main port of call between Europe and Africa. Later the city, set on the beautiful bay Bahia de Palma, became the favoured Royal retreat for Fernando and Isabel, which helped it to become the popular Spanish beach holiday haunt and favourite weekend city break destination of the rich and famous. Despite the invasion of foreign tourists, Palma has kept its local flavour, particularly in its old quarter lined by cafés and tapas bars. Often the native dialect of Mallorquin is the only language heard in the backstreets, a fine Palma de Mallorca trait.
The best places for shopping in Palma de Mallorca are in the atmospheric streets of the old town. The daily Mercat Artesanal is a lively craft market worth visiting for local curios and holiday souvenirs, while the Rastro flea market sprawls over the Villalonga ring road. Those on a health kick should visit the colourful Santa Catalina fruit and vegetable market, open every day on Placa Navegacio. Local produce markets generally open early in the morning and close around mid-day: bargaining is expected.
The biggest concentration of restaurants is in the centre of town at El Terreno, and around the Paseo Maritimo. For some of Spain's best Basque food head to Koldo Royo.
Some of Spain's biggest clubs are in Palma de Mallorca. Some of the most popular Palma nightlife hotspots include Pacha Mallorca, which is built into the Cliffside overlooking the marina. Nearby Tito's also enjoys dramatic views over the yachts mooed below, and don't miss a visit to the extravagantly decorated ABACA. There are also several decent clubs lining the Carrer del Apuntadors.
Palma de Mallorca key activities centre around its nightlife and the town is well known for its foam parties, discos, bars and nightclubs. The Aqualand theme park, a short drive away from the city, is great fun for the whole family. There are several excellent golf courses around town, as well as good hiking trails in the rocky Majorcan hills.
---
The city itself does not have a main beach. When exploring be sure to carry a map as the streets are not well signposted. Palma is the largest town in the Balearics and a magnet for clubbers; it is generally not suited for those wanting a quiet, family oriented holiday.
What to see in Palma De Mallorca