Santa Ponsa Travel Guide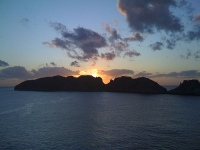 Santa Ponsa © macgerry
Santa Ponsa (or Santa Ponca) today bears little resemblance to the fishing village it once was. Just under half an hour away from Palma and about three miles (5km) south of Magalluf on the south west coast, Santa Ponsa is famous not only as a popular Mallorcan holiday resort, but as the landing point of King Jaime I in 1229 when he came to take the island from the Moors. A stone cross at the resort's marina marks the event. As with most Mallorcan holiday resorts, Santa Ponsa is highly developed and tends to be lively and busy, with an active nightlife and excellent beach culture.
Santa Ponsa is the principal beach, which is supplemented with imported sand, while the more sheltered Calo d'en Pellicer is slightly smaller and closer to the marine club. The third, more exclusive beach is Castellot. The water at all three beaches is warm and clear, and offers safe swimming. A pedestrian promenade, with shade provided by pine trees, runs in front of the Santa Ponsa beach and there are the usual beachfront restaurants, bars, shops and cafés. Over the years, Santa Ponsa has developed a Celtic flavour, with a number of Scottish and Irish themed pubs and bars, but it remains popular with a range of visitors of different ages.
Santa Ponsa has a number of supermarkets (including one large one), a good choice of souvenir shops, stalls, some designer goods, jewellery stores and other essential amenities such as banks for holiday visitors to make use of. A better shopping selection is available in Palma and the closest weekly market takes place on Wednesdays in Andratx.
No.8 Bar & Grill, Meson del Rey, Jardin de Jade and Rhein Restaurant are among the top-rated restaurants for holidaymakers in Santa Ponsa. There are a large number of different restaurants offering local cuisine, Indian, Chinese, Italian and more.
There is a varied nightlife at the holiday resort of Santa Ponsa, with karaoke bars, theme pubs, live music venues, and several clubs and discos. Although not on the same scale as Palma or Magalluf, there is still a lot on offer besides hotel entertainment.
There is plenty to keep holidaymakers amused and occupied when stepping off the beach. Santa Ponsa boasts three golf courses, as well as tennis, watersports, diving, horse riding, and sports grounds for skateboarding and football. There are regular bus services to neighbouring towns and resorts, and excursions to local attractions. There are also regular boat trips along the coastline and these usually stop so that passengers can enjoy a dip in the sea. A nearby popular attraction is Aqualand in Magalluf. The biggest fiesta on the island takes place in Santa Ponsa in September and runs for 10 days. The Fiesta of Rei en Jaume commemorates the landing and defeating of the Moors by Jaime I, and the festival culminates in a mock battle between the Christians and the Moors.
---
The beaches can get very crowded in season and parking can be at a premium; this is not the place to come for peace and quiet.