Costa Del Silencio Travel Guide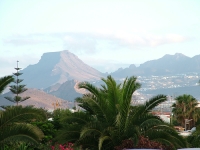 Costa del Silencio © vilb
Costa del Silencio (the Silent Coast), on the south shore of Tenerife, was one of the first holiday resorts on the island to be purposefully built for tourism and is dominated by the ageing Ten Bel complex and several commercial centres. The resort is popular with German and Belgian visitors, but also draws the British package tour crowd to its shores. The resort itself does not have a major beach, but is within walking distance of the neighbouring Las Galletas beach, and is also very close to the immensely popular Playa de Las Americas and Los Cristianos.
The resort attracts a fair amount of self-catering visitors. The town has three large commercial areas, CC El Chaparral, CC Trebol and CC Coralmar Square, which cater to these visitors. The supermarkets are predominantly overpriced, particularly for those wanting to buy UK brands.
Costa del Silencio does tend to live up to its name and is a lot quieter and more relaxed than other resorts, but still boasts a number of bars, shops and restaurants; just don't expect massive dance clubs and all night entertainment.