Las Caletillas Travel Guide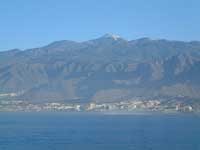 Tenerife
Las Caletillas is a quiet holiday resort, more residential than commercial, set on Tenerife's north east coast. The resort is roughly nine miles (14km) from the island's capital, Santa Cruz, and is a stone's throw away from the charming village of Candelaria with its black sand volcanic beach. Las Caletillas itself has a black pebble beach stretching around three coves, and offers several bars, restaurants and souvenir shops. There is not much on offer in the way of nightlife in Las Caletillas, so don't expect to be up until dawn.
Playa de Las Teresitas, just up the coast from Las Caletillas, provides a change of scenery and golden sandy beaches for those who aren't quite comfortable sunning themselves on the remnants of a volcanic eruption. Of course, the bustling Santa Cruz is close by and if one hires a car, there are various areas of interest to explore on this part of Tenerife, such as the small town of Masca, the historic village of La Laguna with its market and attractive cathedral, or La Orotava (boasting an embroidery school).
A great day out is a trip to the Teide National Park where visitors can enjoy a cable car ride up Spain's highest mountain, the volcanic Mount Teide. Although it may not be a hotspot, Las Caletillas is the perfect holiday destination in Spain for those seeking a more authentic Canaries experience and a truly relaxing Tenerife getaway.