Playa La Arena Travel Guide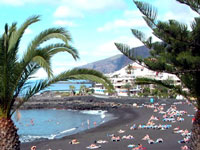 Playa la Arena © LosGigantes.com
Once a fishing village on the west coast of Tenerife, Playa la Arena is today one of three separate holiday resorts (Los Gigantes, Puerto Santiago and Playa la Arena) that have to all intents and purposes merged into one. Playa la Arena is the most modern of the three and has a lovely long stretch of Blue Flag standard black sand beaches. The sea offers excellent swimming, but waters can sometimes be rough. A promenade runs along the seafront and is flanked by a variety of restaurants (some offering excellent seafood), several bars and shops. There is plenty to do besides relaxing on the beach or sampling local cuisine and many visitors opt for a boat trip to neighbouring Los Gigantes, whale watching tours, day trips to the nearby village of Masca or a cable car ride up Mount Teide in the Teide National Park. Visitors can also choose to take a stroll to either Puerto Santiago or Los Gigantes for something different, or catch a bus to the bustling Playa de las Americas for a night on the town. In general, Playa la Arena is peaceful and laid-back, lacking the aggressive touting common in other resorts, and offers a perfect combination of activity and relaxation for all types of visitors seeking the perfect holiday destination.
Duty-free shopping is a big attraction of a visit to Tenerife. The best mall for consumer goods is in the nearby town of Los Gigantes, although the Commercial Centre in town has a decent range of shops as well.
Many international restaurants and tapas bars line the well-developed promenade. English style pub food is widely available. It is worth sampling some of the delicious Canarian dishes, such as salty new potatoes boiled in sea water, baked with a spicy mojo sauce.
Although there are many bars and cafes, proper nightclubs are few and far between.
This Tenerife holiday destination offers plenty of activities for the few days not spent on Playa la Arena's beaches. Visitors can take a boat trip to the nearby Los Gigantes, and the whale watching tours are a must for the whole family. With the Teide National Park a short trip away visitors can take the cable car to the top of Mount Teide and enjoy the spectacular view. Visitors staying in Playa la Arena also have the option of enjoying a fun night out in Playa de las Americas or a sightseeing stroll through the nearby villages of Los Gigantes and Puerto Santiago.
---
This area is very hilly and therefore challenging for people with walking difficulties or parents with prams. The sea can have strong undercurrents so take red flag lifeguard warnings.