The Coast
Koh Chang Travel Guide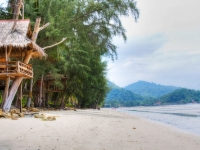 Koh Chang © clayirving
The tropical island resort of Koh Chang is Thailand's second largest island after Phuket, and is made up of stunning white beaches, lofty mountain peaks, pristine rainforests and cascading waterfalls. Koh Chang is easily reached from Bangkok, a few hours away by road, and yet it remains relatively undeveloped and laid-back.
Koh Chang Island is home to exotic flora and fauna, abundant marine life and untouched, colourful coral reefs, making it an attractive holiday destination for adventurers, hiking enthusiasts and scuba divers, and the beautiful scenery, friendly locals, quality restaurants and trendy nightlife make it appealing to everyone else!
There is an array of accommodation options for visitors on the island, ranging from simple beach huts and bungalows to upmarket villas, suites and apartments. Daily flights from Bangkok, Phuket and Ko Samui arrive at the airport in Trat, from where ferries are available to Koh Chang.
Most Koh Chang shops are located along the main road of each beach, offering an assortment of souvenirs, beachwear, paintings, CDs and DVDs and sunglasses. The main beaches, like White Sand Beach and Kai Bae Beach, also have shops such as Speedo and BSC. Klong Prao Beach has three villages and each village has its own shopping centre with small shops, convenience stores, tailors, banks and tour agents.
There are a number of great restaurants on Koh Chang. 15 Palms is a good beach bar/restaurant and Sawatdee Thai is a popular local café at White Sand Beach (Had Sai Khao). Klong Prao Beach has a few good Thai restaurants including Wan Dee and Baan Chiang, while Kai Bae Beach is home to the Piggy's vegetarian restaurant.
Koh Chang's engaging nightlife ranges from pubs and beach bars to live music venues and vibrant nightclubs. White Sand Beach is the nightlife hub of the island, with some of the most popular venues being Oodie's Place, Sabay Bar and the 'Little Pattaya' beer bar enclave (to the south). On Klong Prao Beach there are cafés and bars with pool tables, board games and big screen TVs, and the same can be said for Kai Bae Beach. The bars on Lonely Beach appeal to a younger crowd, with live music and an increasingly debauched atmosphere - good fun!
Visitors to the Koh Chang island resort won't be short of things to see and do. The beaches are all great for swimming and relaxing, and activities such as canoeing, kayaking, fish and snorkelling are on offer. However, the most popular Koh Chang activity is scuba diving; the resort boasts some of the best dive sites off the southern coast, with great visibility from November to April. Hiking to the Nam Tok Mayom and Nam Tok Klong Phu waterfalls is also great fun - be sure to cool off afterwards in the refreshing plunge pools. Elephant safaris can be done at Khlong Prao, and yachting enthusiasts will find sailing in the area is great from November to March.
---
Sandflies are a real irritation as their bites cause itchy sores to develop.