Koh Lanta Travel Guide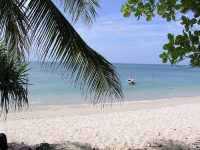 Koh Lanta is a popular resort area in southern Thailand. Consisting of two islands, Koh Lanta Yai and Koh Lanta Noi, pretty much all of the tourist development is on Koh Lanta Yai, often referred to as simply Koh Lanta.
The island is a great place for travellers looking for a beach holiday away from the parties and crowds of Phuket, and is popular with slightly older tourists who populate the resorts and bungalows that line the beaches.
There are plenty of things to see and do on Koh Lanta, including exploring the Khao Mai Kaew Caves on foot or elephant-back, visiting the orchid nursery farm at Long Beach (Pra Ae Beach), and sunning on the beaches of Klong Dao, Kor Kwang, and the beautiful Kantiang Bay. Visitors can also get a taste of the culture of Koh Lanta by visiting Lanta Old Town and the Sea Gypsy Village.