Koh Phayam Travel Guide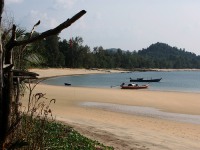 A small island near Ranong and the Myanmar border, Koh Phayam is a small but growing resort in southern Thailand popular with budget travellers. The Sea Gypsy Village itself is relaxed, with not a fast food restaurant or convenience store in sight, and the tourism infrastructure is mostly limited to a few budget bungalow-style resorts.
There are no cars on Koh Phayam, but scooters are available for hire as the best way to get around the island. Visitors can have a Thai massage, take guided snorkelling or fishing trips, or simply relax on the sparkling beaches. Koh Phayam has two main beaches: Aow Khao-Kwai, which is quiet and sheltered on the north side of the island, and Aow Yai, which is busier and has better surf and views of Myanmar.
Because of its location on the far west of Thailand's coast, Koh Phayam is popular for travellers returning from a visit to Myanmar.