New Jersey Shore

---
United States Of America

---

---

---

---

---

---

---
Atlantic City Travel Guide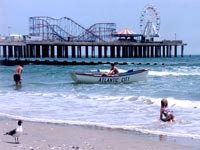 Atlantic City
At its height during the 1920s, Atlantic City was the holiday destination and playground for the rich and famous with thousands of city dwellers flocking to enjoy the seaside. The holiday resort is one of America's oldest and boasts the world's first Boardwalk, running along an eight-mile (13km) stretch of beach, which was built in 1870 by local hotel owners.
Atlantic City also boasts the nation's first Big Wheel, the first colour postcards and the first Miss America Beauty Pageant, which has been held here annually ever since 1921. Before long the Boardwalk became lined with amusement parks and nightclubs, but its grandeur faded into economic decline with the rise of jet travel to Florida, the Caribbean and Europe after World War II, resulting in a disastrous drop in tourism.
In a desperate attempt to revitalise the once-proud holiday resort, the state of New Jersey instituted legal casino gambling in the 1970s. The Boardwalk became a collection of grand gambling halls and the earlier 19th century stone hotels were replaced by extravagant casino-hotels reminiscent of Las Vegas, from designs like the Showboat to the onion domes and gigantic elephants of the Trump Taj Mahal.
Today Atlantic City is famous as a gambler's paradise, with a vibrant nightlife. It also offers amusement rides, souvenir shops and children's entertainment in a bid to market itself as a family holiday destination and 'America's Favourite Playground'.
Shopping in Atlantic City offers a wealth of opportunities for avid bargain-hunters, although visitors should expect far more mass-produced tourist tat than local arts and crafts. The Atlantic City Boardwalk has all the tacky t-shirts and snow globes you could want, but don't forget the delicious salt water taffy or other candy at Steel's Fudge. There are several shopping malls in Atlantic City, including Shore Mall, Atlantic City Outlets, and The Pier Shops at Caesar's. These are home to many well-known luxury and chain stores, including Gucci, Tommy Hilfiger, Burberry and Banana Republic.
There is no end to dining options in Atlantic City. Restaurants offer cuisine from all over the world, ranging from Chinese and sushi to Greek, Mexican, and even Russian fare. The street vendors on the famous Boardwalk offer traditional Atlantic City food like pretzels, hot dogs, salt water taffy, funnel cakes and fudge. Dock's Oyster House offers great steaks and seafood, while Tony Boloney's is popular for pizza and Italian food, and the White House Sub Shop makes excellent (and enormous) sandwiches.
For tourists in Atlantic City, much of the nightlife revolves around the casinos. Trump Taj Mahal, Caesar's, Bally's Wild Wild West Casino, Borgata and Tropicana all stay open 24 hours and have their own nightclubs. There are a number of bars and nightclubs in town that aren't in casinos, however, including relaxed sports bar Ducktown Tavern, slick club Casbah, and the Comedy Stop and Cabaret.
There is much to see and do in Atlantic City, even when you leave the flashing lights of the casinos. The Atlantic City Aquarium and Historical Museum are great family activities, and a visit to Lucy, the 65 ton building shaped like an elephant, is a must. The intersection of Boardwalk and Park Place has a monument to Monopoly, which immortalised the streets in its board game.
No holiday in Atlantic City is complete without a visit to its famous Boardwalk, which is home to an amusement park, art centre, and museum, along with seemingly unending restaurants, shops, and casinos. Visitors can stroll from one end to another, or ride the tram and take in the sights. And once you step off the Boardwalk, you're right on the beach, where you can swim, surf, fish, or just lie in the sun.
---
Those looking for a quiet and relaxing weekend will probably want to avoid the large crowds and flashy casinos of Atlantic City. Largely a tourist trap, there is little in the way of nature and culture.