United States Of America

---

---

---

---

---

---

---
Daytona Beach Travel Guide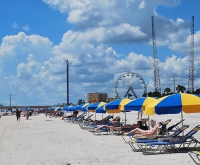 Daytona Beach © Pat Williams
The ocean-front metropolitan area in central east Florida, stretching 23 miles (37km) along beaches south from Ormond Beach, is known as Daytona Beach, America's favourite family beach holiday destination. Greater Daytona encompasses the towns of Holly Hill, South Daytona, Port Orange, Ponce Inlet, Daytona Beach Shores, and all of Volusia and Flagler Counties. Without moving from the Daytona Beach you can surf, jet ski, go boating, parasailing, feast on hot dogs and cotton candy, go fishing, bicycling, fly a kite, and even take a drive in a hired beach buggy. Daytona's hard-packed sands have provided fun for speedsters ever since the early 20th century, when daredevils like Sir Malcolm Campbell set and broke records motoring on the beach. Today beach-cruising is still permitted along an 18-mile (29km) section of the beach during daylight, but the speed limit is a strict 10 miles per hour (16km/h). Speeding is reserved for the world-famous Daytona International Speedway where the annual Daytona 500 Nascar race is held.
With so much to do on the beach, it is difficult to find the time and motivation to move off it. Those who do are greeted with numerous recreational facilities and attractions in the string of towns along the intracoastal waterway and on the mainland. From archaeological sites to mini-golf, museums to haunted houses, and planetariums to chocolate factories, there is never a dull moment in Daytona Beach. Best of all, Daytona Beach is within easy day-trip distance of Orlando with its thrilling Walt Disney World, Sea World, Universal Studios and Epcot Center, to name only a few of the city's world-famous attractions. Also just an hour's drive away is the Kennedy Space Center. Little wonder that this versatile vacation hub receives an estimated eight million visitors a year.
Daytona Beach's main mall, the Volusia Mall, is opposite the International Speedway track on U.S. 92 and contains several major department stores along with 100 speciality shops and a food court, all open seven days a week. In downtown Daytona's historic district is the Riverfront Marketplace, where holidaymakers can enjoy browsing among the many antique stores and boutiques. Daytona is a popular spot for bikers to gather, and thus along Main Street there are some good deals to be had on motorcycle accessories and leatherwear. A favourite with bike fans is the huge Harley-Davidson store at the north end of Beach Street. Bargain hunters enjoy the Daytona Flea and Farmer's Market with 16 hectares (40 acres) of booths selling fresh produce, collectables, jewellery and clothing. The market, off Tomoka Farms Road, is open every weekend Friday to Sunday. Along the beachside boardwalk there are numerous stores and vendors selling souvenirs, T-shirts, swimwear and sun-cream: in fact anything the ill-equipped beach-goer requires.
The Daytona resort area is extremely well supplied with restaurants of varying standards serving a wide variety of food, from sloppy fries to fancy French fare. Carribbean Jack's, situated on the pier of the Halifax River, offers exotic cuisine such as fried gator tail and shrimp and scallop pie, all for a reasonable price. A favourite with visitors, because of its picturesque setting and unpretentious 'old Florida' atmosphere (meals are served on tin plates), is Aunt Catfish's on the River, in Halifax Drive, Port Orange. This establishment specialises in fresh seafood and ribs. Motorsport fans favour the Cruisin' Café Bar and Grill in Atlantic Boulevard, which is not only a restaurant but a museum as well, exhibiting more than a million dollars' worth of original racing memorabilia. The menu includes burgers, wings, steaks, seafood, soups and salads.
From Blues bars to dance clubs, holiday visitors will find Daytona Beach has it all along Main Street and Seabreeze Boulevard. Being a favourite destination for leather-clad bikers, particularly during the annual 'Bike Week', and a hot spot for college students during Spring Break, the area has hundreds of bars, some offering topless shows and live music. A favourite beachfront hangout for more than 40 years is the Ocean Deck Restaurant and Beach Club where locals and tourists of all ages gather and live bands play after 9.30pm. The historic Riverfront Marketplace also has some good venues, like Martinis on the Bay.
Daytona's 23 miles (37km) of fine grain sandy Atlantic beaches, is a staple attraction for holidaymakers, even during the winter months. All are lined with hire vendors providing equipment for a myriad of water and beach sports, from surfboards to fishing tackle. Beachfront parks provide softball and volleyball courts, playgrounds, and picnic areas. Between May and October the area's beaches play host to sea turtles that come ashore at night to lay eggs in nests dug into the sand.
The most popular attraction in Daytona is the International Speedway, which hosts exciting events throughout the year. There are numerous other associated motorsports attractions in the area, including simulators, go-karting, video arcades, and museums. History buffs can visit a variety of places of interest like the home of John D Rockefeller, the ruins of the first steam-powered sugar mill in Florida, or the downtown Halifax Historic Museum. The possibilities for excursions are almost endless, with central Florida's renowned theme parks at Orlando just over an hour's drive away.
---
The sheer amount of activities available in Daytona Beach is enough to exhaust the visitor who intends to see and do all. The beaches do become crowded during peak periods, and it is preferable to stay away during major events like Speed Week, the Daytona 500 Nascar race in February, Bike Week during March and the Coke Zero 400 in July, unless you specifically want to be involved in these events. Spring Break also draws thousands of young students to the area. Public transport is somewhat lacking, and visitors planning to make the most of their holiday require a hire car.