St Petersburg Florida
United States Of America

---

---

---

---

---

---

---
St Pete Beach Travel Guide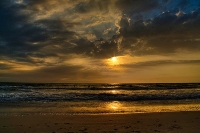 St Pete at Sunset © thephotographymuse
About a million holidaymakers a year tread the sugary sands of the long, thin barrier islands skirting the shores of the Pinellas Peninsula opposite the exciting city of Tampa in west Florida, with St Pete Beach at the southern tip being the most developed and popular holiday resort enclave in this vacationer's paradise. St Pete is full of action and high-rise condominiums, with thrilling activities and attractions of its own to complement those of the neighbouring resort towns like Clearwater Beach. It is also within close reach of Tampa's world famous Busch Gardens theme park, and the renowned attractions of Orlando are about 90 minutes' drive to the east. Immediately south of St Pete, at the mouth of Tampa Bay, is the protected, undeveloped Fort De Soto Park, while to the north Caladesi Island State Park can be easily reached. Both are rated among America's top beaches. As if this were not enough to satisfy active holidaymakers, just a few minutes away is the city of St Petersburg, considered to be the artistic capital of Florida. St Pete Beach can justly claim to be the resort that offers 'something for everyone'.
Holidaymakers will find that the original business district of St Pete Beach, known as Corey Landings, has been largely overtaken by shopping villages and centres distributed along the length of the beachfront developments. Most resort complexes have their own shops catering to tourist's needs. Madeira Beach features the John's Pass Village, a boardwalk lined with souvenir shops, which makes for pleasant browsing. A unique gallery-cum-workshop popular with visitors is Evander Preston Contemporary Jewelry which turns out handmade custom-designed pieces in Pass-a-Grille. Those who are seeking a serious shopping experience can take a trip into St Petersburg to explore the several large malls and outlet malls. Another must for browsers is the Fourth Street Antique Alley Mall in St Petersburg.
You name it, you can eat it somewhere in the Pinellas Peninsula resort area, and the packed enclave of St Pete Beach has more than its fair share of the total 2,300 restaurants in the St Petersburg vicinity, catering to the tastes of all holidaymakers and visitors. From surfside snacks to gourmet dining in elegant resort restaurants there is a splendid selection. One of the St Pete Beach local landmark eateries renowned for its seafood is the beach pub called Hurricane, opposite Pass-a-Grille beach, a lace-trimmed Victorian building with a rooftop bar. A favourite with families in the St Pete's hotel district is Skidders, on Gulf Boulevard, serving inexpensive but delicious pan pizzas and other Italian style dishes, as well as burgers and salads.
Holidaymakers will be pleased to note that nights tend to remain young in the St Pete Beach area, with beachfront bars rocking and pumping out music until the wee hours. The most popular place to seek out a party after sunset is in the restored fishing village of John's Pass at Madeira Beach, where the bar-restaurants feature live music. The choice does not stop, or start, here however. At every bend in the road on Gulf Boulevard, which runs along the coastline for miles, there is an enticing night spot with its doors open. At St Pete itself the most popular spot is Hurricane on Pass-a-Grille public beach, or for a good laugh the Coconuts Comedy Club at the Howard Johnson motel is a side-splitter.
Whether staying at St Pete Beach or one of the other resort areas along the Pinellas County coast, holidaymakers are only minutes from one of America's top crop of beaches. St Pete's own stretch of sand is occupied by hotels, condominiums and private homes and can thus become overloaded, particularly in the height of the holiday season. An alternative is to enjoy your fun in the sun at one of the area's beach parks, like Sand Key near Clearwater Beach, with its gentle surf, Caladesi Island or Fort de Soto. Swimming is excellent at Clearwater Public Beach (or Pier 60). Throughout the area marinas and rental booths offer equipment for every conceivable watersport, and all the beaches have children's playgrounds, picnic areas, fishing piers and the like. Various excursions to Florida's main theme park attractions are freely available, as are boat trips and cruises. Eco-tourists can enjoy hiking, biking, birding or even jogging along the Pinellas County Recreational Trail, which stretches 47 miles (76km) from St Petersburg to Tarpon Springs. There are golf courses aplenty in the area, and most hotels and resort complexes provide for other sports facilities.
---
A motorised trolley service operates along the length of Gulf Boulevard, but for ease of access to beaches, natural attractions and the nearby city centres it is necessary to have a car. During the height of the season St Pete and its surroundings are very crowded, lively and noisy, and is not a destination for those seeking peace and quiet.