Regions
Lech Travel Guide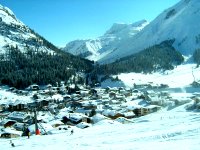 Lech in the Alps Austria
The holiday resort of Lech boasts a reliable annual snowfall that attracts those (who can afford it) to this charming little hamlet, who look forward to skiing as much as the energetic nightlife, often spent mingling with celebrities and royalty. Together with neighbouring Zürs, the two resorts in the Arlberg mountain range are Austria's most exclusive.
Although easily as popular for just hanging around the base, this part of the Arlberg Range, together with Zürs, boast some of the best intermediate skiing to be had in Europe. Snow reliability is one of main contributing factors to the success of this resort that, at 4,840ft (1,450m) offers skiers and riders the chance to ascend to almost 9,380ft (2,811m). The ski school is particularly good however often fills up early in the season with a number of private tutors being booked all winter. Lech is also home to the famous White Ring, which takes skiers on something of a tour through the area boasting some spectacular scenery, and is also the longest ski race in the world.
Most of the shops are to be found on the Hauptstrasse that include major winter sports stores such as Sportalp, Sporthaus Strolz and Pfefferkorn, which sell all the latest branded equipment as well as souvenirs and trinkets and traditional Austrian clothing.
There is an appetizing amount of dining to be enjoyed while on holiday in Lech. There are more than 50 restaurants in town, most in hotels. Some of the most popular are Hûs Nr 8 and Rote Wand for traditional Austrian food, Don Enzo Due for pizza, and Fux for modern Asian fusion cuisine. Balmalp serves food like pizza and ribs, and enjoys stunning views of the valley.
The après ski in Lech is world famous and many holidaymakers staying in Zürs venture out to sample some of the atmosphere. The Tannbergerhof is a great place to spend the night dancing away to oompah music, alternatively there are the two hotels Burg and Sonnenburg, which attract mixed crowds for teatime. The fancy Hotel Krone sees the well-dressed clientele as well as the Hotel Arlberg, both with some great discos, and the champagne bar at the Hotel Montana is a very popular after-ski stop.
In the general area, including Lech, it is possible for holidaymakers to go snowshoeing, sledding, hiking, ice skating and even play tennis or squash.
---
Lech is a very exclusive resort, and therefore quite pretentious and expensive.