Mountains

---

---

---
Cities
Regions
Bansko Travel Guide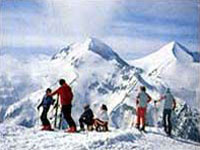 Bansko ski resort
Tucked into the foothills of the Pirin Mountains in Bulgaria, the ski resort town of Bansko is charming and historic against its stunning alpine backdrop. Bansko's alpine skiing, hiking, and rock climbing opportunities are extensive, and its culture and history, stretching back to the 10th century, is rich and vibrant with traditional taverna-style cuisine and colourful folklore. The traditional stone and wooden buildings are an integral part of its charm and character and many relics and monuments survive from its past. While bansko is well-known for its alpine skiing, the town is near the resort of Shiligarnika, which boasts Bulgaria's best downhill skiing.
Skiing in Bansko is particularly well-suited to beginners and intermediates. The slopes of Todorin Vruh are the best spot for novices, with gentle slopes and long runs from the chair lift. The slopes also give access to some good off-piste skiing and snowboarding. Intermediates can take the triple chair lift to the top of the peak and try one of the downhill runs. Snow conditions in Bansko are good and there are seldom queues even in the height of the season. A multi-million Euro project has recently seen the installation of new lifts, including an eight-person gondola, adding to the popularity of the Bansko ski area. The Ulen Ski and Snowboard School offers good tuition, particularly for children who are cared for at the Ulen Junior Ski Club. Bansko has the best snow record and the longest ski season (December to May) of all Bulgarian ski resorts. Expert skiiers can go to the nearby resort of Shiligarnika for more challenging slopes.
Holidaymakers shopping in Bansko will find plenty of souvenirs in the form of local handwork, especially embroidered goods. Many shops focus on skiing equipment, but on Sundays there is a market that offers fresh produce and a variety of locally-made goods.
Bansko is not short on cosy eateries, with hundreds of taverns in the town serving up hearty traditional Bulgarian cuisine, holidaymakers will not be disappointed. Don't expect to find McDonalds here, though! A few of the better restaurants include Ethno Restaurant, Kasapinova House and Chobanov Han.
The nightlife in Bansko is not as wild as Bulgaria's other popular holiday resorts at Borovets and Pamporovo. This small, old-fashioned town takes its tone from the quiet locals, who prefer to while away the evenings in the large selection of low-ceilinged taverns and pubs before a roaring fire. Two of the favourites are Dedo Pene and Molerova Kushta. Most offer entertainment in the form of local musicians or folk orchestras. There are some low-key discotheques offering dancing, also frequented by the local youth who have a reputation for hot tempers.
The holiday resort of Bansko does not offer many diversions in winter apart from good skiing and snowboarding, but the area is well known for its thermal hot springs and these together with several excellent swimming pools, which also have saunas, turkish baths and fitness rooms alongside them allow for a relaxing experience off the slopes. There are a number of sights in the area around Bansko that are worth visiting, like the historic Rila Monastary, the town of Melnik and its sandstone pyramids, Yagodinska Cave, and The Dancing Bears Rehabilitation Park.
---
Bansko is quiet and not suited to 'party animals'. Expert skiiers may not find enough challenge on the skiing slopes, which are best suited to beginners and intermediates.
What to see in Bansko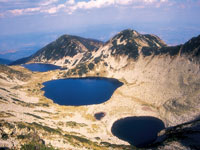 Situated in the highest reaches of the Pirin Mountains, Pirin National Park encompasses rugged alpine peaks that rise…

read more