Places

show more Places
Cities

hide Cities
Fernie Alpine Resort Travel Guide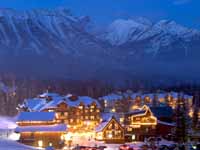 Fernie Alpine Resort at night © Fernie Alpine Resort/Henry Georgi
Fernie Alpine Resort, in the heart of the Canadian Rockies in the south east of British Columbia, is one of the largest ski resorts in the country and very popular with holidaymakers. Spread along the Lizard Range, Fernie boasts excellent powder, five bowls, picture perfect scenery and some highly challenging skiing. Its steep terrain has garnered a serious reputation, as well as a certain mystique - it is the kind of resort that die-hard snowsport fans seek out to set their pulses racing. Tucked away as it is, over three hours from Calgary, perhaps the best part of Fernie is the lack of crowds; Fernie regulars try to keep its magic to themselves. Skiers and snowboarders can enjoy people-free open runs and over 2,500 acres (1,011ha) of skiable terrain. Those taking a break from the slopes can explore the picturesque town of Fernie, three miles (5km) from the resort, or indulge in some fire-side drinks and a post-mortem of the day's runs.
Fernie offers some incredible snow conditions and can boast up to 29 feet (9m) of magical powder each year, with some of the steepest inbound terrain around. There is plenty of variety and terrain for all levels, although perhaps rather challenging for beginners. A good idea is to take advantage of the free mountain tour to get orientated, and in particular, to acquaint oneself with the more dangerous potential avalanche zones. There is excellent snowboarding on offer, too, and along with a half pipe and a terrain park; there is awesome natural terrain to explore. There are also plenty of ski schools for beginners, 10 lifts, and a vertical drop of 2,816 feet (858m).
The resort of Fernie is by no means a shopping destination, but there are plenty of stores where holiday visitors can enjoying browsing (particularly on 2nd Avenue in downtown), including food, alpine sport stores, local arts, crafts and glassware, jewellery and clothing.
Although relatively small and out of the way, there are plenty of dining options for holidaymakers to enjoy on and off the mountain. The Curry Bowl (in Fernie town) offers delicious Asian cuisine, with a mix of Indian, Thai and Japanese, while Las Tres Hermanas has excellent Mexican dishes and highly popular margaritas. On the mountain, Lizard Creek Lodge has a range of different treats and local wines; Yamagoya has excellent Japanese fare, and Gabriella's Little Italy Pasta Place is the perfet place to carbo-load on tasty pastas and focaccia breads.
Fernie has a laid-back, relatively quiet nightlife, so is not for holidaymakers looking for a huge off-slope party. The Grizzly Bar, which has been attracting thirsty skiers since 1962, is perhaps Fernie's most popular off-the-slopes hangout and it attracts quite a crowd with live music and dancing on weekends. The Blue Heron Pub is the town's only major bar, while the Shelter Restaurant serves funky cocktails. The Tofino Legion and the Maquinna Pub host a number of concerts throughout the year.
Although the majority of holiday visitors to Fernie are there purely to hit the slopes, there are also a range of other activities on offer, including dog-sledding, sleigh rides, heritage walking tours of the old coal mining town of Fernie, snowshoeing, ice fishing, whale watching and a relaxing day at the local spa. There are also several children's activities on offer at certain times of year.
---
The skiing at Fernie is mostly aimed at advanced and intermediate levels, and can be a serious challenge for beginners. Those looking for serious nightlife, shopping and extensive après-ski activities will be disappointed.