Lake District
Cities
Ski Resorts

---
Pucon Travel Guide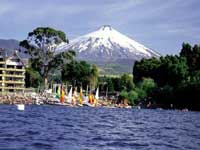 Pucon © Jeferrer
Pucón is a pretty resort town situated on Lake Villarica, set against the looming backdrop of the live Villarrica Volcano. The town has an excellent tourist infrastructure and is one Chile's most popular domestic holiday destinations. Surrounded by one private and two National Parks, Pucón is the focus of the Lake Districts' adventure tourism industry and is a growing centre for outdoor sports including hiking, kayaking, white-water rafting, windsurfing, horseback riding and mountain biking. More relaxing outdoor activities in Pucón include fishing, birdwatching, soaking up the sun on the lakeshore, or bathing in the nearby hot springs.
In the winter months, skiing and snowboarding in Pucón are the major attractions, and the resort is one of the few places in the world where visitors can ski on a live volcano.
Skiing in Pucon is centred on the Villarrica Volcano, make it one of the few places you can ski on an active volcano. The resort's 20 individual pistes are served by nine ski lifts and several natural half pipes. There are facilities for ski and snowboard equipment hire and an international ski school.
It's never a good idea to shop too extensively in a resort town as the prices are generally higher, and the range more generic, than in less affluent towns and areas. Shopping in Pucón is no different, although there are plentiful high quality carvings, textiles and leather goods if you are in the mood to shop.
Hoards of hungry tourists have ensured a lively and diverse restaurant scene in Pucón. Latitude 39 is a great place for burgers and American food, while Ecole! is a popular vegetarian restaurant. Viva Peru has good South American food, while Bovinos is a good steakhouse. La Fleur de Sel serves a popular blend of Chilean and French cuisine.
The nightlife is Pucón is usually lively, and the town has the reputation of having something fun to do 24 hours a day. The most popular evening out in Pucón is probably Mama's and Tapas which serves decent Mexican food and oversize beers. Krater is also worthwhile assuming your thirst has overridden your aversion to cheesy music. A step up in terms of style, price, and clientele is El Bosque. Many bars and nightclubs are open only in summer, and the town is much quieter during the winter months though there is always somewhere to get a drink.
Pucón is ideally situated for adventure sports and outdoor activities, as it is framed between a mountain and a lake, and is on the cusp of two national parks and one private reserve. In summer there is white water rafting, trekking, hot springs, fly-fishing, birdwatching, horseback riding and volcanic caves to explore. Winter activities center around skiing, snow-boardingand lounging about in the restorative hot springs.
---
Can be very crowded during college holidays and ski season.