Rocky Mountains
Beaver Creek Travel Guide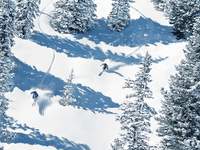 Beaver Creek © Stephen Wilkes
A major resort in Colorado, this upmarket ski haven is a great holiday destination for families, couples and even a few celebrities, as it offers good skiing, fine dining, world-class shopping and fantastic accommodation. Beaver Creek has a very European feel to it, styled similarly to Switzerland's St. Moritz, Italy's Cortina and Spain's Val d'Aran, and exudes the sense of luxury that complements the resort's maxim: Not Exactly Roughing It.
The resort includes three villages with mountain access from all. The Beaver Creek Village is the heart of the resort and has plenty of shops and restaurants in its surrounds, whereas Bachelor Gulch and Arrowhead are more secluded but with great access to the slopes. Beaver Creek is part of Vail Resorts and ski packages can include access to Keystone, Vail, Breckenridge, Arapahoe Basin and Heavenly (California), all of which (excluding Heavenly) can be accessed via an efficient transport system in the Summit County Area.
Beaver Creek skiing conditions are often excellent thanks to the efficiency of resort handlers in maintaining the slopes. In 1989, the resort hosted the World Ski Championships, and offers a variety of levels for beginners and intermediates, even something for the pros. The resort also keeps park-lovers entertained with three parks, including a beginners park, Park 101, and Moonshine for those who can handle the rails, tables and half-pipes. Beaver Creek also boasts two bowls, Rose and Larkspur, creating a playground for advanced skiers and riders.
Apart from offering a wide selection of skiing and snowboarding gear, shopping in Beaver Creek includes jewellery, clothing, furniture, arts and crafts and much more, throughout the villages. Base Mountain Sports is the premier ski and snowboard servicing shop for all tuning and waxing needs, while All Mountain Sports offers the latest in ski technology equipment and gear. A variety of gift shops offering Beaver Creek memorabilia are located throughout the resort while other boutique stores offer everything from fine wines to Swarovski Crystal.
There is something for every taste and price tag in Beaver Creek, and for any time of day. Restaurants are located all across the resort and on the mountain. Popular choices for breakfast include Bivans or The Café, and for fine dining, Toscanini makes exceptional Italian food, while SaddleRidge offers fantastic seafood and venison. A meal on the mountain may well be worth the price and what better way than arriving on a sleigh to a five-course meal at Beano's or Allies Cabin. There are plenty of delis, pizza parlours and burger joints spread across and up the mountain for an in-between snack or light lunch.
Beaver Creek, though not renowned for an incredible nightlife, does offer quieter, more sophisticated evenings at the Beaver Creek Chophouse or Whiskey Elk. The Coyote Café is probably the only place to get some dancing in and is popular with the locals.
For those not interested in skiing or snowboarding while on holiday in Beaver Creek, or simply needing a break from the daily routine on the slopes, the resort also offers snow-shoeing, dogsledding, telemark, ice skating, cross-country skiing, and even hot air ballooning. Beaver Creek is also noted for its spas, spread across the resort. The Vila Center for the Arts hosts live performances, comedy, and musicals for a passive night in. And once the snow has melted and summer has arrived, Beaver Creek offers a fantastic golf course designed by Robert Trent Jones Jr. and a variety of other activities including rafting and kayaking, hiking, mountain biking, tennis and fly fishing.
---
The Beaver Creek resort is pricey compared to others in the area.