Rocky Mountains
Copper Mountain Travel Guide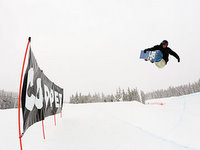 Catching some air © Copper Moutain Resort
Copper Mountain is the largest holiday resort, in terms of area, in the whole of Summit County Colorado. The resort, owned by Intrawest, which also owns Winter Park (Colorado), Mammoth (California) and Whistler-Blackcomb (B.C, Canada), is an incredibly popular holiday destination and noted especially for its varying terrain and diverse runs. Copper Mountain boasts three villages filled with shops, restaurants, bars and a variety of accommodation. The village of Copper is the centre of the holiday resort and most of the action takes place around here. The East Village and Union Creek (on the west side of Copper Mountain) have fewer restaurants and shops. A few years back, Intrawest put a lot of money into the upgrading of the villages, with massive amounts of construction aiding to bring up the standard and reputation to where it stands today. Copper Mountain is now one of the most popular holiday resorts in the whole of Colorado and continues to attract visitors from within the United States and worldwide.
The Copper Mountain holiday resort has a lot to offer skiers and riders of all levels. Towards Union Creek are the beginners' slopes where the ski schools heads out to teach newcomers, or those simply in need of a refresher course, on the gentler green runs. The Village at Copper is more suited to intermediate skiers and riders, while nearby the East Village hides some of the black and double black runs for advanced skiers and riders. There are four bowls: Copper, Union, Spalding and Resolution, for the confident and experienced.
There are shops located throughout the villages of the Copper Mountain holiday resort, selling a variety of ski and snowboarding gear, clothing, jewellery and souvenirs. The Mountain Adventure Center rents and sells equipment and outerwear for adults and children. Copper Mountain Sports is the number one rental store to hire out some new skis while on holiday, as well as handling tuning and waxing requirements. MTN Beach brings the surf to the mountain with popular lifestyle brands such as Quiksilver and Billabong clothing for sale. The Copper Clothing Company will provide all the holiday memorabilia necessary and is a good place to buy gifts. Metals Rock sells a range of jewellery and watches and The Rocky Mountain Chocolate Factory is a must for chocoholics in Copper Mountain, with a variety of chocolate infused eats and drinks.
While on holiday in the Copper Mountain resort, there is something for every taste and most of it is reasonably priced. In The Village at Copper, Jack's Slopeside Grill offers a healthy start to the day with nutritional breakfasts, salads and sandwiches. Other popular restaurants include the Imperial Palace, which prepares Taiwanese and Szechuan dishes for lunches and dinners, or McGillycuddy's Celtic-style pub, a great restaurant for families on holiday.
In the East Village, Double Diamond flames up a grill of burgers and steaks and the Grand Hall Market offers bargains on pizzas, beers and 'Kids Eatz' meals. On the mountain there are secluded spots such as the Flyers Soup Shack for a quiet barbeque, or snacks at the multi-level deck T-Rex Grill or Solitude Station BBQ. There are more options outside of the holiday resort in the towns of Dillon and Frisco.
Although not the best holiday resort for nightlife in the Rocky Mountains, Copper has a few bars and clubs that will be sure to meet après-ski needs. Pravda, a Russian-styled vodka bar offering 30 types of vodka and lots of cheap drinks, stays open late and almost always turns into a great party. Endo's Adrenaline Café has drink specials in the afternoon and usually hosts some live music in the evenings. JJ's Rocky Mountain Tavern, a prospector-styled bar, often draws the holiday crowds over happy hour in the afternoon, inevitably lingering on later for a beer-filled evening.
There is plenty to do for all ages at Copper Mountain holiday resort. Snow-shoeing, snow-mobiling, tubing, ice skating, and even sleigh rides make up some of the alternative snow based activities, but away from the cold there is the après-ski Hot Springs Tour to relax the muscles in some of Colorado's geothermal springs, or even the Copper Mountain Athletic Club to give them a further workout. Other sports include broomball or curling to get into the spirit of social team-oriented competition. Throughout the summer holiday months, Copper Mountain offers golfing and hiking as well as mountain biking.
---
Copper Mountain can get very busy over the Christmas and New Year holiday period and over Spring Break.