Rocky Mountains
Steamboat Travel Guide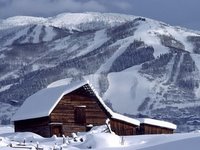 A Barn at Steamboat © Steamboat
Steamboat is a hugely popular holiday resort boasting a wide variety of options for families of all skiing levels, and topped off with rustic cowboy charm. Its reputation and quality has earned it the nickname 'Ski Town USA'. The resort is located in Steamboat Springs, Colorado, on Mount Werner in the Park range. With almost 3,000 acres of varied terrain, reaching a height of 3,668 feet (1,118m), and encompassing 165 trails including mogul fields and tree runs, there is bound to be enough for everyone. The Steamboat resort is incredibly popular for holidays due to its rich Olympic heritage and friendly atmosphere. It is also perfect for families, accommodating beginner skiers and snowboarders quite comfortably with experienced instructors at the ski school.
Steamboat gets reliable dumps of some of the finest 'Champagne Powder' (a term coined in Steamboat) in the world. There are 165 named trails spread out over 2965 acres (1200km) across five mountains. There is something for every level of skier but most runs fall in the intermediate and advanced categories. There are 23 lifts in total, ensuring a rapid delivery of skiers to the top of the runs. Steamboat also has the longest Superpipe in North America, an absolute dream for freeriders. SoBe terrain park features a number of rails, sliders, boxes and rainbows for park-lovers on holiday here.
There are plenty of shops throughout Steamboat selling everything one could possibly want for a skiing and snowboarding holiday. Apart from regular groceries and food supply stores, there is SkiTownGrocery.com which delivers groceries to your accommodation while you ski. Specialty stores include All That Jazz, the only true record store in town; FM Light and Sons, which has sold fine clothing for over 100 years; and The Steamboat Art Company, which sells a multitude of local arts and crafts. Other well-known local stores are The Homesteader, specialising in domestic goddess wares, and The Silver Lining selling beads and jewellery.
There are more than 75 bars and restaurants in the Steamboat area. Don't miss Slice O' Life Bakery for high quality artisan breads and pastries. Hazie's, on the mountain, is perfect to enjoy a fine dining experience with a continental menu. For true Steamboat fare there's Western BBQ at the top of Steamboat gondola, often accompanied by some live country and western music to enhance the famous Steamboat atmosphere. Double Z is also good for true BBQ, and authentic Mexican can be found at Fiesta Jalisco. For an all-round menu, there is Chaps, maintaining the cowboy feel with a relaxed vibe, and serving everything from breakfast through to dinner. Gourmet cuisine can be found at Bistro CV and Cafe Diva.
There is something for all tastes in Steamboat with numerous bars and restaurants staying open late when the beer, wine and tequila flows a lot freer. Tugboat is a rocking bar on the slopes of the mountain while Level'z in town boasts to be 'the only real night club' in the area, staying open later and pumping out the tunes. Mahogany Ridge has some of the best live music in town with a fantastic selection of beers on tap. Slopeside Grill has a great evening menu but also stays open late with some decent drinks deals. The Tap House is ideal for any sporting occasion and with 40 screens is sure to keep everyone on top of the score. A good place to start an evening out is Dos Amigos where the margaritas are cheap and tasty.
There is no shortage of holiday activities to keep one entertained in Steamboat, including hiking, snow-shoeing, hot-air balloon rides, helicopter tours, tubing, and horse riding. The region is famous for its hot springs which can be enjoyed at Strawberry Park, a stunning location just seven miles (11km) out of town.
---
In recent years the big reputation has left some advanced skiers disappointed with the over-hyped terrain.