Rocky Mountains
United States Of America

---

---

---

---

---

---

---
States

show more States
Cities

hide Cities
Ports of Call

---

---

---

---

---

---

---

---

---

---

---

---

---

---

---

---

---

---

---

---

---

---

---

---

---

---

---
Breckenridge Travel Guide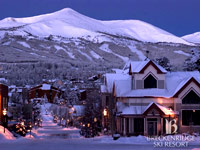 Breckenridge © Carl Scofield
The beautiful Colorado high mountain valley and holiday destination of Breckenridge first attracted settlers back in 1859, when the glitter of gold drew hundreds of hopeful prospectors to the banks of the Blue River. The gold wore out in the 1940s, but, like Aspen, Breckenridge soon boomed again, this time as a world-class ski resort where visitors came seeking thrills and spills on the white powdery slopes. When it comes to snow-sports, Breckenridge is acknowledged as one of the finest places in the USA to experience them all, and it has a reputation for being the best place to learn to ski in the US, with more than 600 professional instructors and gentle beginner slopes available. Breckenridge is also a haven for snowboarders, having been one of the first resorts in the country to cater for this now booming sport. The quaint mining town with its charming Victorian buildings forms the nucleus of the Breckenridge resort, and has become a year-round popular holiday destination with a host of activities on offer during the summer months as well as exceptional skiing in winter. The resort's popularity is enhanced by its easy accessibility from Denver via the Eisenhower Tunnel, the drive taking about an hour and a half.
The high altitude of the slopes means abundant, long lasting snow. While largely a paradise for intermediate skiers and snowboarders, there is terrain suited to all levels from beginners to expert skiers. Peak 8 and the area between Peaks 9 and 10 is excellent for beginners, with a variety of long, flat trails, and Peak 7 has gentle, but more difficult runs to progress to. Intermediates can enjoy moguls, wide-open bowls and miles of groomed trails, while the steep canyon between Peaks 8 and 9 is one of the expert slopes for advanced skiers, along with Lake Chutes, tree skiing on Peak 9 and Horseshoe or Imperial Bowl. The longest trail in the area is Four O'Clock, a four-mile (6km) run.
Avid shoppers are extremely well catered for in the historic town of Breckenridge and holiday makers with a view to spend won't be disappointed. Although downtown is fairly small, with the main street less than a mile long, there are more than 250 shops and boutiques offering a vast array of goods, from log furniture to wigs! A good percentage of the stores offer sports goods and outdoor clothing, so visitors have a wide choice from which to equip themselves for the slopes. Specialty, jewellery and gift shops also abound, along with a crop of galleries, pure pleasure for browsing if you want to take home a genuine Stetson, Navajo rug or one of hundreds of trinkets, novelties, paintings or pots.
Holiday visitors will find that eating out is essential in Breckenridge because there are just so many good options to choose from. Expensive, but worth it for the panoramic view, is the Top of The World restaurant, serving up delicious native American dishes like grilled buffalo ribs and Rocky Mountain trout. Those craving Alpine fare will enjoy the fondue and rosti potatoes at the Swiss Haven, while any sweet tooth will be well satisfied with the delicious desserts for which The Hearthstone is renowned. One of the quaint historic buildings on Ridge Street, The Cellar, offers modern cuisine paired with fine wines. Cheap meals can be grabbed at spots like Angel's Hollow, serving up burritos and burgers, or try Mimi's Fried Pies for a savoury or sweet indulgence. There are also several pizzerias that deliver.
Après-ski in Breckenridge is a feast of fun, with the evening usually kicking off in one of the many lively bars and restaurants, which offer happy hour specials. Try sangria by the litre at Mi Casa Cantina, or down a frothy cold one at the Breckenridge Brewery. A hot favourite is Base 9 in Beaver Run, which hums until the early morning hours. After dinner the town heats up with live music and dancing at hot spots like the Liquid Lounge. For a change of pace visitors can enjoy a production at the Backstage Theatre, which offers a programme of live shows through the season.
Besides the excellent skiing and snowboarding there are plenty of activities both during the winter and summer that cater for the whole family: ice skating, sleigh rides, dog sledding, snow-mobiling, as well as cross country skiing and snow-shoeing make the most of the snow; while mountain biking, fly fishing, golf, hiking, horse riding, rock climbing and white water rafting are possible during the summer months. Hot air balloon rides are possible throughout the year, as well as activities such as historical and mine tours in the Victoria era town.
---
Because of the high elevation of the resort and its mountains, ranging from 9,603ft to 12,999ft (2,927m to 3,962m), some people may suffer from the effects of altitude sickness and require a few days of inactivity to acclimatise. The north and east facing slopes are prone to high wind-chill factors.