Rocky Mountains
United States Of America

---

---

---

---

---

---

---
States

show more States
Cities

hide Cities
Ports of Call

---

---

---

---

---

---

---

---

---

---

---

---

---

---

---

---

---

---

---

---

---

---

---

---

---

---

---
Telluride Travel Guide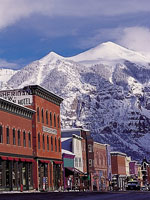 Downtown Telluride © Doug Berry
At the southern tip of the Rocky Mountains, tucked into a canyon ringed by the soaring peaks of the San Juan Mountains, lies the tiny historic mining town and holiday destination of Telluride, which, twinned with its modern purpose-built 'alter-ego', Mountain Village, perched 9,500 feet (2,895m) up the mountain-side, forms one of America's most spectacular ski resorts.
Telluride sports a dozen or so blocks of quaint Victorian homes and clapboard storefronts, around a pedestrianised core. A unique feature of the twinned towns is the three-stage gondola system, which provides the only access to high altitude Mountain Village. Visitors take the swift, scenic and free ride to the elegant, contemporary resort town, marvelling at the panoramic views of some of Colorado's most magnificent mountain peaks. While Telluride provides the picturesque historic atmosphere, Mountain Village, founded in 1987, provides modern recreational and accommodation options for discerning guests, with luxury hotels and condominiums, sophisticated boutiques, eclectic restaurants, a championship golf course, conference centre and a world-class spa. The attractive, upmarket modern facilities and stunning setting have ensured that Telluride/Mountain Village is not just a winter sports destination with eminently attractive ski slopes, but popular all year round as a mountain holiday destination. It is easy to see why the Ute Indians in days of yore cherished this valley and its guardian peaks as sacred territory.
The Telluride ski area offers 1,700 acres of lift-served terrain, 24 percent of which is perfect for beginners, the rest equally divided to suit intermediate and advanced/expert skiers. Beginners soon gain confidence on the Prospect Bowl's long, gentle runs, which is why the resort is renowned as being perfect for novices. Intermediate's can stroke their ego too, rock 'n rolling down runs like Sandia, Magnolia and Stella that make you feel like an expert. Telluride's signature run is named See Forever, which is what happens as you glide down the two miles (3km) of mountainside. Awesome views are the order of the day too for the experts, who can take on daring snow highways like The Plunge, or opt for a choice of double-diamond backcountry experiences.
For those who regard shopping as an essential part of a fun holiday, Telluride and Mountain Village have great pleasure in store. The element of surprise is what makes shopping in the pedestrianised town centres so enjoyable, because browsing among the numerous speciality shops and one-of-a-kind boutiques will turn up some interesting and unique buys. The resort is devoid of the regular chain retailers, outlet stores and strip malls. Instead it is packed with galleries of original art and sculpture, gift and jewellery stores sporting hidden treasures, antique stores, trendy clothing boutiques, and of course a host of sports shops with the latest gear and equipment. You can, for instance, browse through the book selection at Between the Covers while you sip superb speciality coffees; pick up an Enrico Embroli original at the Lucas Gallery; go eco-friendly with an organic, hand-made cotton outfit from Down to Earth; or search out gifts for the unfortunates you left back home from the selection of toys, potpourri, soap, candles, country wares, hand-blown glass and jewellery on offer at Zia Sun.
You name it, you can eat it while on holiday in Telluride/Mountain Village, in dozens of different eateries, from intimate supreme cuisine establishments, to buzzing family diners or cosy corner coffee shops. Recommendations are difficult with such a spread of excellence to choose from, but in Telluride town first for formal dining is 221 South Oak, mere steps from the gondola station, with a menu that changes daily and a deserved reputation for fine food and wine. There are plenty of family-friendly options serving up pizza, burgers and other favourites. A hot favourite in town for nearly a quarter of a century is the atmospheric Sofio's Mexican Café. Up in Mountain Village the fare is enhanced by the views from most restaurants, like the 9545 Restaurant and Bar, where the modern American menu served up with a mountain backdrop. La Piazza, with its lovely view patio, is a favourite for its authentic Italian cuisine.
Après-ski in Telluride tends away from wild partying, but this does not mean the nightlife is dull. The gemuchlikheit generated at a favourite après-ski stop, Leimgruber's Bierstube, for example, is fuelled by a wide selection of German beer and an atmosphere enlivened by an oom-pah band. For a club-type scene, the Fly Me to the Moon Saloon gets pumping with live bands several times a week. The gentler alternative after a day on the slopes is offered at The Bistro at The Hotel Telluride, where skiers sip their drinks to the tune of background music, ensconced in leather chairs before a roaring fire.
On or off the slopes, there need never be a dull moment during a stay in Telluride. Outdoors there is snow-shoeing, ice-skating, ice-climbing, sleigh rides, hot air ballooning, dog-sledding, snow-mobiling and horseback riding. Indoors visitors can be pampered at the Golden Door Spa, or swim a few lengths of the indoor pool at the Wyndham Peaks Hotel. There is also a climbing wall here. More sedentary pursuits include art classes at the Ah Haa School for the Arts, or catching a movie at the Nugget Theatre. The Telluride Historical Museum provides an interesting look at the town's mining heyday.
---
The terrain can be quite challenging and timid skiers and beginners will struggle with some of the slopes.