Introducing Afghanistan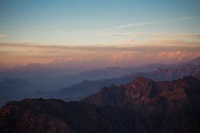 Afghanistan landscape © Phillip Hickman
Afghanistan should conjure up images of dramatic lush green mountains turning snow capped with the winter chill, an oasis of sapphire lakes bluer than a cloudless sky, overflowing into tumbling waterfalls, or a variety of majestic and indigenous wild animals such as the elusive snow leopard. Instead, it evokes images of war-torn cities, dilapidated buildings and a nation grappling to come to terms with its political history.

Afghanistan is a somewhat unexpected destination for any traveller, but what it has to offer will enrich the lives of those who visit this humble land, few and far between as they may be. Afghanistan offers unique and exquisite attractions such as Band-e Amir, Afghanistan's answer to the Grand Canyon and its first national park, or the site of the Buddhas of Bamyan, two monumental statues of Buddha carved into the side of the Bamyan Valley, which were destroyed by the Taliban in 2001.

The capital of Kabul sees tall modern buildings nestled up against bustling markets where people dressed in flamboyantly colourful turbans weave their way up and down the narrow streets. Unfortunately, all but essential travel to Afghanistan is strongly advised against, as this country is currently one of the most dangerous places in the world and is the site of ongoing war. Those brave enough to visit should be aware that it is prudent to honour the country's predominantly Muslim beliefs and traditions, especially women.

Afghanistan is a country rich in not only culture, but also breathtaking landscapes that one day will hopefully entice the visitors it deserves, to the benefit of Afghanistan's people. However, until further notice, it seems the only foreign visitors to this country are of the gun-wielding insurgency-fighting variety.
Become our Afghanistan Travel Expert
We are looking for contributors for our Afghanistan travel guide. If you are a local, a regular traveller to Afghanistan or a travel professional with time to contribute and answer occasional forum questions, please contact us.