Introducing Albania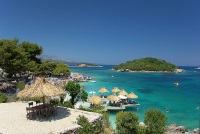 Albania © Artur Malinowski
Fast becoming one of the world's most remarkable tourist destinations and nestled in the heart of the turquoise blue Ionian and Adriatic Seas, the little Balkan gem of Albania is relatively unspoilt by globalisation and plenty of its culture is still firmly intact. Home of Mother Theresa and great 15th century hero Skanderbeg, and known for its isolation and totalitarian Communist government, the curious thing was that even after the Iron Curtain came down, Albania decided to go it alone. That was until 1992 when the Communist party finally relinquished power and Albania established a multi-party democracy with a coalition government.
Albania boasts stunning beaches, snow-capped mountains, rivers, lakes, and forests and some of the most hospitable people in Europe. Not only that, it also features Butrint, a UNESCO World Heritage Site and one of the world's archaeological wonders. It provides visitors with a glimpse of Mediterranean civilization from the Bronze Age through the Greek, Roman, Byzantine, Venetian and Ottoman periods. And if that wasn't already impressive enough, all of this is situated on top of a cliff overlooking Corfu!
In the leafy capital city of Tirana, tourists can enjoy the breathtaking views over the city from Mount Dajt or head to one of the many sidewalk cafes to sample some traditional Albanian fare, which has a primarily Turkish influence.
Saranda in the south is known for its unforgettable beaches and colourful springs while Shkodra features the Rozafa castle, a major tourist attraction. Orchards burst with ochre, burnt oranges and yellows in autumn while spring sees apple and cherry blossoms carpet the roadsides. These seasons are the best time of year to visit Albania, as even in September it is still warm enough to swim on the southern coast.
With both coastal and mountain holidays on offer, as well as a cultural experience of lifetime, Albania is guaranteed to knock the socks off all its first time visitors, ensuring a return visit in the not too distant future!
Become our Albania Travel Expert
We are looking for contributors for our Albania travel guide. If you are a local, a regular traveller to Albania or a travel professional with time to contribute and answer occasional forum questions, please contact us.