Regions
Introducing Algeria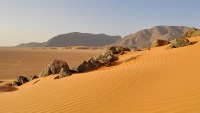 Algeria © Julian Herzog
Algeria is not generally considered a popular tourist destination and despite a gradual decline in violence between the 1990s and now, attacks against foreign tourists are still a possibility and a concern. That said, the majority of visits to the country are trouble free. Those who do travel to the region will find that Algeria is not short on sightseeing opportunities and certainly provides tourists with an authentic experience.
The capital city of Algiers, sitting on the northern coastline, is a growing metropolis. Once a strategic point of entry for would-be conquerors from Europe and the Middle East, it now welcomes the presence of multi-nationals such as Carrefour and Quick. Historically the most popular remnant of battles waged on the city's coast is the Cashbah, a UNESCO-listed citadel, the oldest part of which dates back to 1660. Also along the coast is Tipasa, a pleasant seaside village which holds some spectacular Roman ruins. Timgad, which is further south, holds North Africa's most extensive and best preserved Roman Ruins.
Typically Mediterranean in climate, Algeria has warm sandy beaches, particularly around Oran, a popular tourist destination in the summer months. The infamous Sahara Desert begins right where the coast ends, rocky at first, elevating over the vast Haut Plateaux (High Plateaus), and untold miles of sand and sun. In the far south of Algeria is the Hoggar mountain region which holds the nation's highest peak, the Tahat Mountian, and caverns containing rock paintings dating back to the time of the Berbers, over 10,000 years ago.
Become our Algeria Travel Expert
We are looking for contributors for our Algeria travel guide. If you are a local, a regular traveller to Algeria or a travel professional with time to contribute and answer occasional forum questions, please contact us.