Ports of Call

---
Blowing Point Harbour Port of Call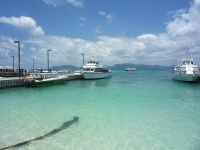 Anguilla Ferry Terminal © onj
Arriving in Anguilla during a Caribbean cruise is like stepping into a glossy postcard of the perfect island: beaches of powder-white sand, healthy coral reefs and crystal clear waters, then colourful, immaculate buildings fringing the welcoming harbour.
Anguilla is a shining jewel of the Leeward Islands, in the Lesser Antilles. It is a 20-minute boat ride from its larger neighbour St Maarten, but a thousand miles away from the hordes of travellers and duty-free shopping of many popular cruise destinations.
The beaches are regarded as the best in the Caribbean and there are plenty to choose from. Anguilla is also highly rated for its fine restaurants and excellent nightlife. Cruise ships dock in the bay outside Blowing Point Harbour, Anguilla's modest and attractive port.
---
Contact
The Anguilla Tourist Board
Coronation Avenue
Tel: 264-497-2759
info@ivisitanguilla.com
Transport
The island is small and there is no public transport, except for taxis. Cars, mopeds and bicycles can all be rented; self-propelled travel is a good option here as Anguilla is predominantly flat.
Attractions
Anguilla's beaches are truly outstanding, and serve as the island's biggest draw card. The longest beach, and possibly the best, is Rendezvous Bay. For total seclusion visitors should make their way to Captain's Bay, while Sandy Hill is the most charming. All of Anguilla's beaches are clean, safe and carpeted in talcum-powder sand, though. Inland, travellers should visit Wallblake House to see the last remaining plantation estate in Anguilla, and the wonderful Heritage Museum Collection.
Restaurants
Blanchards Beach Shack - authentic, affordable and delicious Carribean cusine.
Veya - fine dining in a romantic setting.
Mango's - a beach side eatery that is not to be missed.
Best Dish
Shredded salt fish served with peppers and onions
Shopping
This is the wrong island for a shopping spree as there are few retail experiences to speak of. Travellers should catch the ferry to nearby St Maarten for some of the Caribbean's best duty-free shopping. On Anguilla, it's worth visiting Anguilla Rums and picking up one of the celebrated Pyrat rum blends.
Best Buy
Locally made rum, body products and driftwood sculptures.
Excursions
Go on a shopping trip to St Maarten.
Snorkel the perfect waters of Shoal Bay.
Climb Crocus Hill for spectacular sunset views of Anguilla.
Take a charter boat around the island and go big-game fishing.
Take a horseback ride along the beach.
Become our Anguilla Travel Expert
We are looking for contributors for our Anguilla travel guide. If you are a local, a regular traveller to Anguilla or a travel professional with time to contribute and answer occasional forum questions, please contact us.