Regions
Ports of Call

---
Introducing Antigua And Barbuda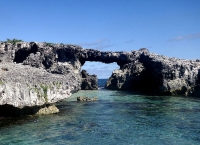 Devil's Bridge, Antigua © Robert Pittman
In 1784, Admiral Horatio Nelson chose Antigua, situated in the centre of the Leeward Islands, as the base for Great Britain's Caribbean Fleet. It is easy to see why, as the island boasts a varied coastline with secure docking points, a protective coral reef and steady trade winds. Add to that shimmering sandy beaches, bright sunshine and a laid-back attitude, it is no surprise that Antigua, together with its smaller sister island Barbuda, is today one of the Caribbean's most popular tourist spots.
Along with the uninhabited Redonda Island, Antigua and Barbuda form a tiny nation with a population descended largely from African slaves and a mix of Europeans. Visitors flock to enjoy the stretches of beach and miles of excellent hikes on Antigua, the protected nature reserve of Redonda, the exclusive resorts and superb bird sanctuary on Barbuda, and world-class snorkelling and scuba diving among wrecks along the nation's coral reefs. The warm winds that Nelson relied on to bring his ships safely into harbour, now contribute to one of the world's biggest maritime events known as Sailing Week, a popular attraction and event of the Island.
The nation's largest city is the popular cruise destination of St John's, situated on Antigua. With a strong maritime history, the city is filled with related attractions and offers visitors a chance to shop, dine and unwind. Codrington (named after sugar plantation owner Christopher Codrington) is Barbuda's main city and acts as a base for explorations of the many coastal shipwrecks, as well as the island's diverse bird population. Ultimately, however, visitors flock to this island nation to enjoy the expanse of sandy beaches and the unique atmosphere of the Eastern Caribbean.
Become our Antigua And Barbuda Travel Expert
We are looking for contributors for our Antigua And Barbuda travel guide. If you are a local, a regular traveller to Antigua And Barbuda or a travel professional with time to contribute and answer occasional forum questions, please contact us.