Cities
Ports of Call

---
Oranjestad Port of Call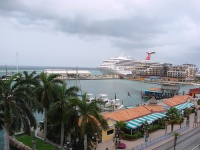 Oranjestad Port © Photocapy
Located on the south coast of Aruba, Oranjestad is the island's capital and a port of call warmed by glorious sunshine, lapped by turquoise waters and lined with miles of white, sandy beaches. The dock is in the northern section of town and attracts many cruise ships that bring passengers from all over the world to enjoy this island's charm.
Oranjestad offers a great selection of first-class restaurants, boutiques and shopping complexes, as well as 24-hour casinos and excellent water sports facilities to entertain cruise passengers. And if there's still time, there are a couple of interesting museums in town, and a visit to the nearby Eagle and Palm beaches wouldn't go amiss either.
Cruise ships dock at one of the three terminals operated by the Aruba Ports Authority and there are Tourist Information desks inside for any passenger queries. The port has three berths for mega cruise ships and two for medium sized ships. The maximum water depth in Oranjestad is 32ft (9.7m) and there is over 4000ft (1240m) of docking space.
---
Contact
Aruba Ports Authority
Tel: +297 523 4300
www.arubaports.com
Tourist Information is available from inside the port terminals.
Transport
Oranjestad's shops, restaurants and casinos, as well as some of the museums, are within walking distance of the harbour. The main bus terminal is a three-minute walk from the cruise terminals and buses transport visitors to the island's beaches and attractions. Taxis are available from the harbour; rates are fixed and should be checked before getting into the car. There are also cars, scooters, motorbikes and bicycles available to rent.
Attractions
Many of Aruba's attractions are easily accessible from the port by bus or taxi. The closest beach is Druif, and Eagle Beach is a bit further north. For history buffs, Oranjestad's downtown streets are lined with Dutch colonial houses, and the Archaeological Museum exhibits local Arawak artefacts. The nearby Willem III tower was built to act as a lighthouse, another notable site. There are plenty of 24-hour casinos in town for passengers to try their luck at.
Restaurants
Wacky Wahoo's Restaurant offers fresh seafood caught that day, crabcakes, fresh vegetables, and bold Caribbean flavours.
Papillon Restaurant specialises in classic French recipes with a Caribbean flair, famed for its pan-fried Grouper with garlic and herbs.
Cuba's Cookin' guests should try the plantain chips with guacamole, and wash it down with a fresh Mojito.
Best Dish
Dutch pancakes (crêpes)
Shopping
In the port terminals, there are several outlets selling a variety of local and Caribbean handicrafts and souvenirs, such as exquisite crystal, Dutch Delft (pottery) and locally dyed batik prints. Oranjestad town centre is within walking distance and boasts excellent boutiques and shopping complexes. Duty is very low, generally making shopping good value for money; most shops price in both Florins and US Dollars.
Best Buy
Arawak-style pottery and Dutch shoes (El Bohio, Port of Call Marketplace)
Excursions
Visit the gold mill ruins of Balashi and Bushiribana
See Indian drawings in Fontein Cave and Arikok
Explore the Tunnel of Love cave complex
Snorkel the waters off Malmok Beach
Become our Aruba Travel Expert
We are looking for contributors for our Aruba travel guide. If you are a local, a regular traveller to Aruba or a travel professional with time to contribute and answer occasional forum questions, please contact us.